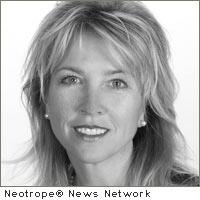 AUSTIN, Texas /eNewsChannels/ — 360 Mortgage Group, LLC, a privately-owned wholesale mortgage bank, welcomes Lisa Glenn to its ranks as an account executive in the Southeast region. Glenn brings more than 20 years of mortgage origination experience.
"360 Mortgage Group's goal is to attract the premier loan originators in each of its territories, and Lisa Glenn certainly fits into that category," said 360 Mortgage Group President Mark Greco. "Lisa's ability to create market presence and provide product education, as well as her client performance management skills, will prove invaluable in establishing trust with borrowers as we build our presence in the Southeast region. We're honored to have her aboard."
Glenn brings a wealth of account executive experience to her new role at 360 Mortgage Group, having previously worked for Wells Fargo Home Mortgage, Chemical Residential Mortgage Corporation, JHM Mortgage LP and GE Capital Mortgage Insurance. She has also been affiliated with Raleigh Triangle Mortgage Bankers Association, Raleigh Triangle Association of Professional Mortgage Women, North Carolina Association of Mortgage Brokers, Mortgage Bankers of the Carolinas and North Carolina Association of Mortgage Professionals. In addition, Glenn was a third party trainer for Freddie Mac and her industry leadership roles within North Carolina. Glenn earned a Bachelor of Science in Health Policy and Administration from the University of North Carolina at Chapel Hill.
"I am excited to join 360 Mortgage Group," said Lisa Glenn. "Focusing on brokers' needs for successful business growth is paramount right now in the wholesale industry, and 360 demonstrates that enthusiastically with the design of an efficient system to load information, view information and providing ease of access to all parties involved in closing each loan. The communication, consistency and control available to our brokers speaks volumes."
"I've known Lisa for 20 years and I don't think I can find words to express how incredibly professional and smart she is," said Bob Weber, CEO of Envision Mortgage. "She has complete integrity and value. 360 Mortgage Group is really lucky to have Lisa as a part of their team."
About 360 Mortgage Group, LLC:
Established in 2007, 360 Mortgage Group LLC is a privately owned mortgage bank that has successfully utilized its high-technology platform to provide better communication and customer service to business partners. An approved Fannie Mae seller/servicer, 360 Mortgage Group is centralized in Austin, Texas and services more than 25 cities across the United States.
Copyright © 2011 Neotrope® News Network – all rights reserved.