Home
Authors
Posts by Christopher Simmons
Christopher Simmons
HOLLYWOOD, Calif. -- Is art imitating life or what? Craig X who sells pot on Showtime's hit show "Weeds" is opening a pro-pot Temple on Hollywood Blvd this week. In the first season he plays himself as the owner of the "Bodhi Sativa Care Givers Club." In season two, this week's episode (August 21-25), "Cooking with Jesus" he appears as the owner of cannabis club called the "Mohasky Club."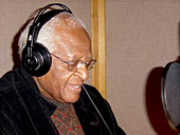 An interview with Nobel Peace Prize winner, human rights activist and world renowned author and lecturer Archbishop Desmond Tutu, who shares a few thoughts on his book "God Has a Dream: A Vision of Hope for Our Time."
COLUMN: Apparently shaving is no longer hip and cool. I'm watching TV, the commercials come on, and I am blinded by the stubble... oh the stubble ... Does Paris Hilton think "that's hot?" Ohmigod! I need to stop shaving or I'm not going to get past that velvet rope!