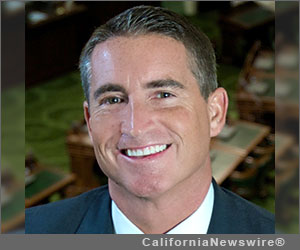 SACRAMENTO, Calif. /California Newswire/ — California State Assemblyman Jeff Gorell (R-Camarillo) and Assemblyman Steven Bradford (D-Gardena) announced today they have joint-authored two bills on the growing unmanned aerial vehicle (UAV), or "drone" industry. Assembly Bill 1326 will attract manufacturing jobs in this rapidly growing industry to California by providing state tax incentives, while Assembly Bill 1327 intends to protect the privacy rights of Californians.
"The defense industry has been a huge incubator of jobs in California, especially Southern California," stated Assemblyman Bradford. "We want these well-paying, high-tech manufacturing jobs to continue to grow here in California."
Assemblyman Gorell added, "UAV manufacturing will experience 700 percent growth in the next 6 years, a great opportunity for California's economy. But the privacy concerns must be addressed before the public will feel comfortable with all of the benefits that come from the use of this technology. Our legislation clarifies how law enforcement and other public agencies will be allowed to use UAVs, and protects the public from unwarranted intrusions."
More specifically, AB 1326 provides a tax exemption for the purchase of machinery used to manufacture the airframes and avionics of UAVs, as well as construction of new manufacturing facilities in California. The bill also provides hiring credits for creating new jobs in the industry. AB 1327 provides common sense privacy protections against unwarranted governmental use of UAVs, and also penalizes surreptitious spying by private entities.
The myriad of economic and privacy issues surrounding the expanding UAV industry will be explored at a 3-day symposium in Thousand Oaks from March 26 to 28. The conference, co-hosted by the American Institute of Aeronautics and Astronautics (AIAA), Assemblymembers Gorell and Bradford, and other policymakers, will explore topics including the growing job opportunities for California; use of UAVs for public safety; use of UAVs in agriculture and other commercial endeavors such as communications and filmmaking.
Additional information about the symposium can be found at:
Additional information about the legislation can be found at: http://goo.gl/CTbFg .
---
Copyright © 2013 California Newswire. This content is copyrighted under U.S. and international law and may only be used for non-commercial purposes by news aggregators or under license of the Neotrope® News Network (www.neotrope.net). .