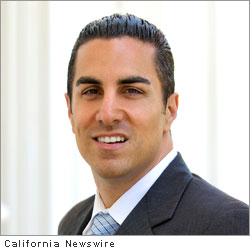 SACRAMENTO, Calif. /California Newswire/ — On Saturday, February 2, members of Calif. Assemblyman Mike Gatto's (D-Los Angeles) Small Business Advisory Commission voted to ask him to introduce legislation to address a new breed of shakedown lawsuits plaguing small businesses in Southern California. On Monday, February 4, Assemblyman Gatto did what the Commission asked, introducing legislation that allows a business owner who receives notice of a Proposition 65 violation to remedy a violation, and achieve compliance within 14 days, without facing exorbitant retrospective fines.
Prop. 65, the Safe Drinking Water and Toxic Enforcement Act, was passed by voters in 1986 and provides that a business in California may not expose individuals to chemicals known to cause cancer and/or reproductive toxicity without first giving clear and reasonable warning. The State of California publishes a list of more than 800 chemicals known to cause cancer, reproductive harm, or birth defects. Originally intended for serious exposures or failures to warn, Prop. 65 lawsuits have recently been abused by unethical attorneys. A coffee shop owner in Gatto's district was sued for hundreds of thousands of dollars for failing to notify his customers that beer could cause cancer.
Such suits exist because the law allows for fines of $2,500 per day, enforced by any plaintiff. Most people suing businesses expect that a small business, wary of litigation costs, will opt for a quick settlement to make the lawsuit go away.
As introduced, AB 227 would further the original intent of Prop. 65, which was obtaining compliance with warnings for chemicals present on a site. It would therefore allow a business that receives a notice of a private action to correct the violation, i.e., post the Prop. 65 warning, within fourteen days without being subject to the retroactive $2,500 per day fine.
"The voters passed Prop. 65 to be protected from chemicals that would hurt them. They did not intend to create a situation where shakedowns of California's small-business owners would cause them to want to close their doors," said Gatto.
Assemblyman Gatto formed the Small Business Advisory Commission this year to advise him on challenges facing local small-business owners. The eight member commission discussed a variety of concerns impacting small businesses and voted unanimously for Gatto to introduce the bill to reform Prop. 65 so that the law's intent is not undermined.
"I had the opportunity to listen to concerns of local business owners on the Small Business Advisory Commission. The severe negative impact of shakedown lawsuits under Prop. 65 was immediately apparent," said Gatto. "Most business owners work hard to protect customers so that the customers return. This is especially true with small-business owners whose customers are neighbors, friends, and relatives. This common-sense bill will help small businesses avoid costly litigation while ensuring that the public has the proper warnings about potentially dangerous chemicals."
Mike Gatto is the Chairman of the Appropriations Committee of the California State Assembly. He represents the cities of Burbank, Glendale, La Canada-Flintridge, La Crescenta, Montrose, the Los Angeles neighborhoods of Los Feliz, Silver Lake, Atwater Village, and portions of the Hollywood Hills and East Hollywood.
---
Copyright © 2013 California Newswire. This content is copyrighted under U.S. and international law and may only be used for non-commercial purposes or under license of the Neotrope® News Network – www.neotrope.net. Republication of this data stream as full-text content is authorized only for legitimate news portals and aggregators (may not be used for marketing purposes or to make it appear the content originated elsewhere). Copr. © Neotrope and the "news source" – all rights reserved. .
This site is part of the Neotrope® News Network USA