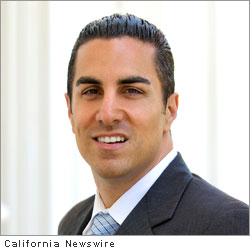 SACRAMENTO, Calif. /California Newswire/ — Assemblyman Mike Gatto's legislation to protect small businesses from meritless lawsuits took a huge step forward yesterday by clearing its final policy hurdle, the Assembly Judiciary committee, by a unanimous, bipartisan vote of 10-0. The bill, AB 227, would allow small-business owners who receive notice of a technical-signage violation of Proposition 65 to achieve compliance within 14 days and pay a small civil fine.
In doing so, these businesses would avoid facing exorbitant retrospective fines, and the prospect of being forced to pay settlements in the thousands of dollars for neglecting to put up a simple sign. AB 227 essentially provides for a "fix-it ticket" for signage violations over the most common, everyday substances covered under Prop. 65, such as those that naturally occur when grilling food or in alcoholic beverages.
"I am proud to have brought together groups that are normally on opposite sides of this issue to craft a common-sense bill that will help California businesses avoid costly litigation, while ensuring that the public has prompt and proper warnings about potentially dangerous chemicals," said Gatto. "It's not every day that business groups, environmental justice coalitions, organized labor, and attorneys' organizations agree on anything, much less how to reform Prop. 65–a measure that has been substantively amended just once in nearly 30 years."
Prop. 65 was passed by voters in 1986 and requires warnings for a huge list of products. It also allows for fines of $2,500 per day, enforced by any person, for failure to comply. Unfortunately, a small number of attorneys have recently started to use Prop. 65 technical violations to target small businesses that lack resources for a legal defense, with the goal of reaching quick settlements to avoid costly litigation. Since 2012, more than two-dozen brick-and-mortar businesses in Southern California, including restaurants and cafés in Burbank, Glendale, Pasadena, and Los Angeles, have been threatened with Prop. 65 lawsuits for simply neglecting to have posted signs (or signs of the right size) that warn about beer, wine, or chemicals that result from the natural process of cooking food. Some of these businesses have paid settlements of $5,000 and more for not having put up a $20 sign or for the sign being one inch too small.
"Threatening a small business with a lawsuit for serving its customers coffee with their breakfast, a burger with their lunch, or a glass of beer or wine with dinner is absurd," said Gatto. "The voters passed Prop. 65 to be protected from chemicals that would hurt them. They did not intend to create a situation where shakedowns of California's small-business owners would cause businesses to want to close their doors."
The idea for the legislation came from Assemblyman Gatto's Small Business Advisory Commission, formed earlier this year to advise him on challenges facing local small-business owners. Since its creation by the commission in January, AB 227 has received increasing support from a variety of sectors including community organizations, small-business groups, and environmental and consumer advocates.
"Most business owners work hard to follow the law and protect customers so that they return. This is especially true with small-business owners whose customers are neighbors, friends, and relatives," continued Gatto. "It is my sincere hope that AB 227 will provide a balanced approach to the posting of Prop. 65 warnings in brick-and-mortar establishments that protects small-business owners from having to pay outrageous settlements while maintaining the public's informational rights."
Mike Gatto is the Chairman of the Appropriations Committee of the California State Assembly. He represents the cities of Burbank, Glendale, La Cañada Flintridge, the Los Angeles neighborhoods of Los Feliz, Silver Lake, Atwater Village, and portions of the Hollywood Hills and East Hollywood.
---
Copyright © 2013 California Newswire. This content is copyrighted under U.S. and international law and may only be used for non-commercial purposes by news aggregators or under license of the Neotrope® News Network (www.neotrope.net). .