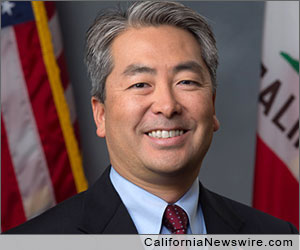 SACRAMENTO, Calif. /California Newswire/ — Today, the Calif. Assembly Budget Subcommittee on Education Finance met to discuss the Governor's controversial Local Control Funding Formula. Assemblymember Al Muratsuchi (D- Torrance), a member of the committee, requested that the Legislative Analyst Office (LAO) propose alternatives to the formula to ensure that all school districts benefit under a new funding scheme.
"We are going to work with the LAO to develop different scenarios that accommodate the different needs and interests of all school districts," said Muratsuchi. Currently, California is ranked 49th in the nation in per pupil funding and the state needs to prioritize restoring funding to all schools that have been suffering from budget cuts.
As California teeters on being the lowest in the nation for per pupil funding, Muratsuchi asked for a thoughtful deliberation and analysis of the Funding Formula. Muratsuchi, a former school board member, has first-hand experience with the difficult budget situations that school districts face and is fighting to restore funding to all schools as well as increasing the base fund.
Audio clips:
Assemblymember Muratsuchi says the Budget Sub-Committee he sits on is exploring alternatives to the Governor's plan. (:18)
http://www.asmdc.org/audio/20130409SchoolFundingMuratsuchi4.MP3
Assemblymember Muratsuchi says the Governor's plan for school funding creates winners and losers, instead of improving all schools. (:28)
http://www.asmdc.org/audio/20130409SchoolFundingMuratsuchi1.MP3
Assemblymember Muratsuchi provides an example of how on Western Avenue, the Governor's plan picks winners and losers in his Assembly district. (:18)
http://www.asmdc.org/audio/20130409SchoolFundingMuratsuchi5.MP3
Al Muratsuchi is the Chair of the Veterans Committee of the California State Assembly. He represents the cities of Gardena, Hermosa Beach, Lomita, the Los Angeles communities of Harbor City and Harbor Gateway, Manhattan Beach, Palos Verdes Estates, Rancho Palos Verdes, Redondo Beach, Rolling Hills, Rolling Hills Estates, Torrance and the unincorporated communities of El Camino Village and West Carson.
---
Copyright © 2013 California Newswire. This content is copyrighted under U.S. and international law and may only be used for non-commercial purposes by news aggregators or under license of the Neotrope® News Network (www.neotrope.net). .