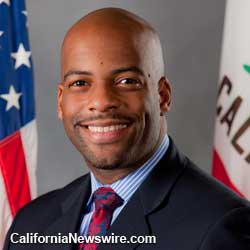 LOS ANGELES, Calif. /California Newswire/ — Assemblymember Isadore Hall, III (D- Los Angeles) has named LaFlorence Marie Hollis the 52nd Assembly District's 2011 Woman of the Year. Ms. Hollis, a resident of Compton, grandmother of five and great-grandmother of two is a retired teacher and a vital community leader. After 33 years of service to the Los Angeles Unified School District, Ms. Hollis began devoting her time to help at-risk students throughout Compton.
Ms. Hollis' commitment to her community has been demonstrated through her tireless volunteer work with the American Association of University Women; the Camp Fire Council, Inc.; the Lutheran Women's Missionary League; the National Association for Equal Justice in America and by serving as the current President of the Committee to Save Compton Community College and the President of the Concerned Citizens of Compton, Inc.
"LaFlorence Marie Hollis is a bright light in our community, giving inspiration and hope to people in Compton and throughout the 52nd Assembly District," said Assemblymember Hall. "I am pleased to honor Ms. Hollis for her commitment and dedication to help students fulfill their educational goals and to improve the lives of others throughout the golden state."
The Woman of the Year event was created in 1987 to recognize March as Women's History Month and to individually celebrate the contributions and unique accomplishments of women in each of the Assembly's 80 districts and the Senate's 40 districts.
The 2011 Woman of the Year event will take place in the Assembly Chambers of the State Capitol on Monday, March 21 at 11:30 a.m.