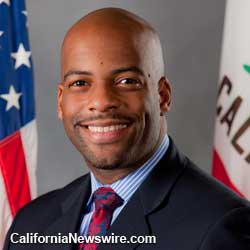 LOS ANGELES, Calif. /California Newswire/ — In recognition of his legislative leadership and support for local groundwater issues, the Water Replenishment District of Southern California (WRD) will award Assemblymember Isadore Hall, III the 2011 WRD Groundwater Ambassador Award. The WRD Groundwater Ambassador Award honors individuals who champion groundwater issues for south Los Angeles County.
Past award recipients include Congresswomen Lucille Roybal Allard, Karen Bass and Grace Napolitano, Governor Arnold Schwarzenegger and Assembly Member Ted Lieu for their contributions to groundwater protection, replenishment and conservation efforts.
The Groundwater Ambassador Award will be presented at the WRD's 4th Annual, "Treasure Beneath Our Feet" Groundwater Festival located at the WRD headquarters in Lakewood, California. More than 3,000 environmental organizations and participants are scheduled to attend the day's festivities.
For the past 50 years, the WRD has managed two of the most heavily used groundwater basins in California. As a regional groundwater management agency that encompasses 420-square miles in south Los Angeles County, WRD protects the groundwater supply for over 10% of the state's population.