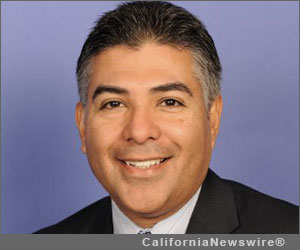 SAN FERNANDO, Calif. /California Newswire/ — U.S. Rep. Tony Cárdenas will host a telephone town hall at 1:00 p.m. Pacific Time on Thursday, April 4, 2013, for interested residents of the San Fernando Valley to learn more about the impact of the House Republican Budget on San Fernando Valley families. Callers are invited to email the Congressman questions in advance. We will do our best to answer all questions.
"The budget that passed the Republican-controlled House of Representatives is the wrong path for the middle class and our nation," said Cárdenas. "Instead of investing in expanded access to higher education and strengthening our efforts to provide senior housing and healthcare, this budget maintains the same failed policies, protecting corporate loopholes and tax breaks for the wealthy at the expense of hard working Americans striving to achieve the American Dream."
The Congressman will be discussing services that could be cut because of the budget, as well as the estimated $3,000 tax increase that middle class families will face under the Republican budget. He will also be discussing the Democratic alternative, which will preserve the Medicare guarantee, Affordable Care Act coverage expansion, and nutrition assistance, as well as provide tax relief for working families, invest in education and job creation, and close corporate loopholes and tax breaks for the wealthy.
Reporters are welcome to listen in on the call and ask questions. Rep. Cárdenas will be available for one-on-one phone interviews following the telephone town hall.
WHO: Congressman Tony Cárdenas
Community Stakeholders
WHAT: Telephone Town Hall Meeting with San Fernando Valley Community Leaders and Residents.
WHEN: Thursday, April 4, 2013 at 1:00 p.m. PDT.
RSVP & QUESTIONS: Please rsvp and submit any questions for Congressman Cárdenas to budgetcall[at]mail.house.gov by April 3, 2013.
CALL IN INFORMATION: Participants should call (712) 775-7400 and enter 698340 at the prompt, followed by the # sign.
---
Copyright © 2013 California Newswire. This content is copyrighted under U.S. and international law and may only be used for non-commercial purposes by news aggregators or under license of the Neotrope® News Network (www.neotrope.net). .