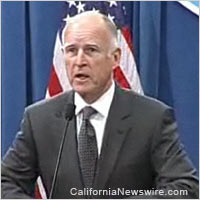 SACRAMENTO, Calif. /California Newswire/ — Calif. Governor Edmund G. Brown Jr. today announced the following appointments: First, Walter Seaver, 59, of Colusa, has been reappointed to the 44th District Agricultural Association, Colusa County Fair, where he has been a member since 2012. Seaver has been the farm operation manager for the Colusa Indian Community Council since 2007.
Seaver was plant manager for AgriSource from 2002 to 2007 and plant manager for JR Simplot from 1989 to 2002. Seaver was a partner at Seaver Brothers Farming from 1971 to 1989. He is a member of the Colusa Drain Mutual Water Company and the Sacramento River Conservation Area Forum. This position does not require Senate confirmation and there is no compensation. Seaver is a Democrat.
Wayne Bell, 58, of Sacramento, has been appointed commissioner of the California Department of Real Estate. Bell has been chief counsel and assistant commissioner for legal policy and recovery at the California Department of Real Estate since 2006. He was special counsel and director of homeownership at the California Housing Finance Agency from 2003 to 2006 and deputy secretary and general counsel at the California Business, Transportation and Housing Agency from 1999 to 2003.
Bell worked in multiple positions at Ralphs Grocery Company from 1989 to 1999, including vice president. Bell earned a Juris Doctorate degree from Loyola Law School. This position requires Senate confirmation and the compensation is $130,176. Bell is a Democrat.
Sourced from: California Newswire – California Business News, Entertainment and Technology . © 2013 the Neotrope® News Network.