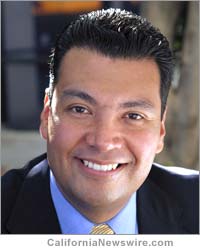 SACRAMENTO, Calif. /California Newswire/ — The Calif. State Senate today approved SB 380 by Senator Alex Padilla (D-Pacoima) on a bipartisan vote of 35 to 2. The bill would set standards to prevent the arbitrary shutdown or interruption of cell phone service. The bill now moves to the Assembly for consideration.
"SB 380 establishes a framework to protect cellular service from arbitrary shutdown. Cell service shutdowns deprive people of the ability to call 911, receive emergency wireless alerts, find family and friends, and impair first responders' ability to communicate," said Senator Padilla. "The recent tragic events in Boston remind us of the vital importance of wireless service to first responders, victims and families during emergencies," added Padilla.
SB 380 is a revision of last year's SB 1160 (Padilla), which was in response to the Bay Area Rapid Transit Agency (BART) shutdown of mobile services for three hours during public protests in August 2011. The BART Board subsequently adopted a policy allowing a service interruption under certain circumstances, but with no court review. BART's actions also led the Federal Communications Commission (FCC) to open a proceeding on wireless service shutdowns. Public comments filed by numerous parties stated that, in nearly every case, a shutdown of wireless service creates more public safety problems than it solves because people in a crisis cannot call 911 or receive emergency alerts and first responders cannot communicate effectively.
"For decades, California law has required a court order to interrupt or shutdown traditional telephone service. SB 380 would extend these protections to the modern mobile communications network which is critical to public safety and a key element of a free and open society," said Senator Alex Padilla.
An early report during the Boston bombings was that authorities shutdown cell service to prevent remote detonation of additional bombs. This was retracted with later reports that first responders and wireless carriers were asking people to text and email to check on loved ones, to free up capacity for voice communication by first responders at the scene.
Specifically, SB 380 maintains a statewide standard allowing service interruption only as directed by a court order based on probable cause and preempts conflicting local policies. The bill's provisions are technology neutral and apply to any service used for calling 911, including wireless and Internet-based services. The bill would add a process for a shutdown in exigent circumstances followed by court review to determine whether free speech and public safety standards are met.
Changes from last year's bill preserve law enforcement tools to protect public safety in hostage and barricade situations and clarify the standard for when an emergency shutdown is allowed without prior court review.
Senator Alex Padilla, 40, graduated from MIT with a degree in Mechanical Engineering. He currently serves on the Board of MIT and is President of the National Association of Latino Elected and Appointed Officials. He is Chair of the Senate Energy, Utilities and Communications Committee and represents the more than 1,100,000 residents of the 20th State Senate District in Los Angeles. Info: .
---
Copyright © 2013 California Newswire. This content is copyrighted under U.S. and international law and may only be used for non-commercial purposes by news aggregators or under license of the Neotrope® News Network (www.neotrope.net). .