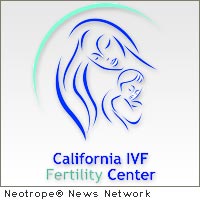 DAVIS, Calif. /eNewsChannels/ — California IVF: Davis Fertility Center, Inc. announces a name change for their Sacramento area fertility centers. The infertility treatment center will now operate under the name California IVF Fertility Center and the shorter version California IVF. The name change was made to reflect the operation of clinics at various locations throughout the Sacramento area. The fertility center will also operate with names assigned to each of the local clinics offering services to infertility patients of the Sacramento metropolitan area. These names include Davis Fertility Center, Roseville Fertility Center and Sacramento Fertility Center, Inc.
California IVF Fertility Center recently acquired the Sher Institutes of Reproductive Medicine Sacramento and has assumed care for the patients of that center. Additionally, California IVF Fertility Center has completed a collaborative agreement with the UC Davis Obstetrics and Gynecology department to provide all infertility treatment services formerly offered by the UC Davis Fertility Program. Additional announcements about the future plans for the consolidated program are coming soon.
Dr. Ernest Zeringue, Medical Director of California IVF Fertility Center states, "This is a big undertaking which will significantly alter the delivery of fertility treatment services in the Northern California area. We hope to leverage our reputation of outstanding patient care and new Sacramento location with the scientific resources of UC Davis."
About California IVF Fertility Center:
California IVF Fertility Center was founded in 2004 by Dr. Ernest Zeringue. Since that time, the clinic has continued to grow by focusing on providing advanced reproductive technology in a family-like atmosphere. California IVF Fertility Center has expanded with clinics in Davis, Sacramento, and Roseville. California IVF is the local fertility clinic of choice for many infertility patients in the Greater Sacramento, Roseville, Fairfield and San Francisco Bay areas. Advanced infertility services such as in vitro fertilization (IVF), donor sperm and donor eggs, embryo freezing or cryopreservation, ICSI, and other treatments for both male and female infertility are offered at its Northern California fertility centers.
The California Conceptions Donated Embryo program (californiaconceptions.com) provides an egg donor and adoption alternative to IVF patients from around the world. The staff includes a team of 5 board certified fertility doctors and experienced embryologists who are skilled at performing pre-implantation genetic diagnosis (PGD) and screening (PGS). Centrally located between the Sierra Nevada Mountains, Lake Tahoe, San Francisco Bay Area, Silicon Valley, Napa Valley and The Pacific, fertility center patients from across the US and around the world have access to many Northern California travel destinations while undergoing infertility treatment.
For more information about infertility and California IVF, please visit www.californiaivf.com .
Copyright © 2011 Neotrope® News Network – all rights reserved.