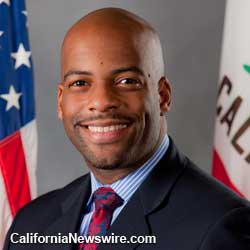 Sacramento, Calif. /California Newswire/ — The California Legislative Black Caucus (CLBC) endorsed Calif. State Assemblymember Isadore Hall's campaign for Congress today. State Senator Curren Price, Chair of the Legislative Black Caucus, released the following statement:
"The California Legislative Black Caucus is honored to announce our endorsement of Assemblyemmber Isadore Hall for Congress. Isadore is one of California's most dynamic leaders and he will be a champion for the working class families of California's newly created 44th Congressional District. This race will be a top priority for our caucus and we are look forward to playing an active role in Isadore's campaign over the coming months."
Since the formation of the California Legislative Black Caucus in 1967, the core mission has been to close and to ultimately eliminate, disparities in a wide variety of areas that stagnate the growth of the African-American community. The Caucus represents and advocates for the interests of African Americans throughout California. It seeks to increase African American participation and representation in all levels of government.
Hall is a former two term President of the Compton Unified School District Board of Trustees. He was elected to the Compton City Council in 2003 where he served in various leadership positions including Mayor pro Tempore. Hall was elected to the California State Assembly in 2008 and served as Assistant Speaker pro Tempore during his first term. He currently serves as a member of the Appropriations, Elections and Redistricting and Human Services Committees. He chairs the Assembly Committee on Government Organization.
The youngest of six children, Hall was born and raised in the City of Compton. Hall holds a bachelors degree in Business Administration, a Masters Degree in Management and Leadership from the University of Southern California, a Masters Degree in Public Administration from National University and will be conveyed his Ph.D. from Next Dimension Bible College later this summer.