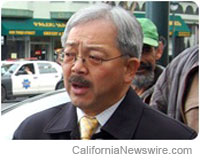 SAN FRANCISCO, Calif. /California Newswire/ — On Monday, S.F. Mayor Edwin M. Lee joined Consul General of Japan Hiroshi Inomata and the San Francisco Recreation and Park Department to celebrate the United States-Japan Cherry Blossom Centennial by planting a ceremonial cherry blossom tree in Golden Gate Park's Japanese Tea Garden.
The event celebrates the 100th anniversary of the first cherry blossom tree presented to the U.S. and the San Francisco Consulate General of Japan is commemorating the event by donating young cherry blossom trees to be planted throughout San Francisco, including in Union Square, the Japanese Tea Garden and in Golden Gate Park.
"The cherry blossom tree is a symbol of friendship and exchange between the United States and Japan," said Mayor Lee. "We are honored to plant cherry blossom trees, a gift of friendship from the Consul General of Japan, throughout San Francisco to recognize the strong relationship our City shares with Japan and the Japanese community."
"I can't think of a more fitting location, given the more than 150 years of history and exchange that San Francisco and Japan share," said Consul General of Japan Hiroshi Inomata. "We look forward to sharing this sight with all of you, and know that the cherry trees, as well as the friendship between our peoples, will be still be blooming well into the next centennial."
"San Francisco Recreation and Park Department looks forward to continuing our partnership with the Japanese communities oversea and in San Francisco," said General Manager Phil Ginsburg. "With the generous gift of Cherry Blossom Trees from Consul General of Japan, now many are able to reflect and gain a deeper understanding of Japan in our park system."
Cherry blossom trees, including some of the original from 1912, bloom beautifully every spring at the Tidal Basin along the Potomac River in Washington D.C. Various events are held during the season with the cooperation of individuals and organizations from both countries. More than a million people visit Washington D.C. every year from around the U.S. and around the world to see and cherish the cherry blossoms in full bloom. Over the years, the cherry blossom trees have encouraged exchanges between the two nations as well as contributing to a deeper understanding of Japan.
2012 also marks the 55th anniversary of the founding of the San Francisco-Osaka Sister City relationship and the 45th anniversary of the Northern California Cherry Blossom Festival, which is the second largest festival outside of Washington, D.C. to celebrate the blooming of cherry blossoms and held at one of three remaining Japantowns in the U.S.