Relios Jewelry receives Two Awards from City of Albuquerque for Pollution Prevention
ALBUQUERQUE, N.M. — Relios Jewelry, a company nationally recognized for its customer focus, merchandising teamwork, innovation, and operational excellence, now has more accolades to boast – this time in the arena of "Good Environmental Practices." The Albuquerque Bernalillo County Water Utility Department's Pollution Prevention Staff has awarded America's largest manufacturer of authentic American-made jewelry with not one but two prestigious honors:
* Pollution Prevention (p2) Award
* 5 PPM Silver Award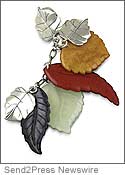 The Pollution Prevention (p2) Award recognizes the company's efforts to reduce waste, dedication to pollution prevention practices, and education. A letter from City Pollution Prevention staff outlines a number of specific "Best Management Practices" used by Relios ranging from practicing good housekeeping to proper management of waste.
The 5 PPM Silver Award distinguishes Relios for its efforts in reducing silver bearing waste(s) – acknowledging that the company has been a vital partner in helping to reduce silver discharges to the sanitary sewer system.
"Relios is very proud to be recognized for being a good environmental partner," says company President Bill Pollack. "These honors speak to the level of dedication and care that our employees exercise at work every single day. Whether it's in the creation of our jewelry or the attention to pollution prevention, our staff really goes the extra mile, and it shows."
Relios, which has been designing and manufacturing contemporary sterling silver and genuine gemstone jewelry since the 1970's, will go through seven tons of silver this year, and ship more than 700,000 finished pieces of jewelry throughout the world. That's three pieces of jewelry for every woman in Albuquerque!
Corporately responsible and "green-friendly," Relios maintains a strong commitment to quality control and trust. Every single piece of Relios jewelry is manufactured in the U.S. and is lead-free and nickel-free. Additionally, Relios uses only recycled precious metals in its manufacturing processes.
The major television network jewelry supplier recently more than doubled its size with a move into a 25,000-square-foot factory in Albuquerque. The new building boasts a large well-lighted factory space, along with offices, conference rooms, and designer work-spaces to accommodate its 140-employees.
Relios Jewelry designs and manufactures more than 100 new items per season from their Albuquerque, New Mexico facility. Their moderately priced, American jewelry styles can be found online at www.relioswholesale.com .
[tags]Relios Inc jewelry, pollution prevention, proper management of waste, Albuquerque Bernalillo County Water Utility Department, Pollution Prevention Staff, manufacturer of authentic American made jewelry, environmental award[/tags]