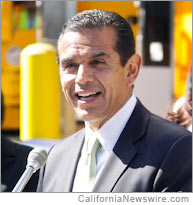 LOS ANGELES, Calif. /California Newswire/ — Los Angeles Mayor Antonio Villaraigosa announced the appointment of Dr. Sung Won Sohn to the Board of Harbor Commissioners on Tuesday (June 28). "Having served as an economic advisor at the highest levels of government, Sung Won Sohn will bring invaluable economic and practical expertise to the Board of Harbor Commissioners," said Mayor Villaraigosa. "His decades of experience in banking, management and economic forecasting will help the Port of Los Angeles remain one of the economic anchors of our city."
Dr. Sohn is currently the Smith Professor of Economics and Finance at California State University, Channel Islands and Vice Chairman of the multi-national retailer, Forever 21. Prior to this, he was the President and Chief Executive Officer of Los Angeles-based Hanmi Bank. From 1998 to 2005, he was the Executive Vice President and Chief Economic Officer at Wells Fargo Banks where he was responsible for macro-economic forecasting, monetary policy, and regulatory matters.
Named one of the five best economic forecasters in the country by the Wall Street Journal in 2010, Dr. Sohn also served as senior economist on the President's Council of Economic Advisors during the Nixon Administration where he was responsible for economic and legislative matters pertaining to the Federal Reserve and financial markets.
In 2002, he was named to TIME Magazine's Board of Economists and was previously selected by Bloomberg News as one of the five most accurate forecasters in the United States.
He holds a Master of Business Administration from Harvard Business School and a doctorate in economics from the University of Pittsburgh.