LOS ANGELES, Calif. /California Newswire/ — Mayor Antonio Villaraigosa, Los Angeles Department of Water and Power General Manager Ron Nichols, Dr. Walter Jayasinghe and city officials on Friday celebrated the completion of a major solar panel installation project in central Los Angeles. The Walter J Towers project will use 1,135 photovoltaic panels, elevated above the building's surface parking lot, to reduce the building's annual energy costs by 30%.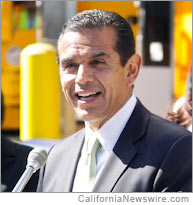 "The Walter J Towers project represents how investing in solar is good for the environment, and good for a business' bottom line," Mayor Villaraigosa said. "We are providing incentives for more innovative and forward-thinking companies to invest in LA's most abundant natural resource and in the process build a local 21st century green workforce."
The project qualifies for a rebate of more than $475,000 through the LADWP's Solar Incentive Program (SIP). The DWP is re-launching this program to continue making solar installation more affordable and provide customers with a financial incentive.
"This is a great example of using local renewable energy to reduce energy costs. The collaboration between LADWP, ReGreen Corporation and Mr.Jayasinghe on this solar project will reduce energy costs for the Walter J. Towers and support the LADWP's efforts to reduce our reliance on fossil fuels." said LADWP General Manager Ronald O. Nichols. "With the September 1 re-launch of our popular solar incentive rebate program, we look forward to working with many other City businesses and residents interested in achieving similar benefits through solar power."
The new SIP guidelines incorporate public input received during workshops last month. The program had been placed on temporary hold April 9, as the demand for incentives was far outpacing the available budget by about 3 to 1. The suspension was initiated to catch up with a backlog of applications and solar inspections, increase customer education to address safety concerns, gain input on improving the program, and identify alternative financing options. LADWP will resume accepting applications September 1, 2011.
Also to encourage solar usage by more customers, LADWP has increased the budget for incentive payments to $60 million in the current fiscal year and anticipates requesting additional money in each of the next two fiscal years.
The revamped program will also utilize an online, automated application tool, "PowerClerk," designed to streamline the customer experience and increase transparency of the process.
The Walter J Towers is managed by LA Building Management, and the solar project was designed and built by LA-based ReGreen Corporation, with design input from both LADWP and the Department of Building and Safety (LADBS). Dr. Walter Jayasinghe, a Los Angeles physician who emigrated from Sri Lanka as a teenager, owns the Walter J Towers.
ReGreen Corporation's close, collaborative relationship with LADWP and the LADBS was critical to orchestrating this landmark effort. Sited in a densely populated urban area, the Walter J Towers solar project broke new ground because of the extensive interconnection with LADWP's power grid.
"Never before has such a large solar panel project been installed over the surface parking lot of a classic office building, so close to downtown Los Angeles," explains ReGreen Managing Director David Duel. "We're pleased to have met those challenges, helped LA Building Management achieve significant energy cost savings and installed the project with zero upfront costs to them."
Dr. Walter Jayasinghe, owner of Walter J Towers, is an enthusiastic supporter of employing technology to reduce energy consumption, as well as costs. "I've dedicated my life to helping people restore and maintain their health," said Dr. Jayasinghe. "In a sense, these solar panels and other steps we've taken to reduce energy consumption at Walter J Towers are small but tangible actions toward helping maintain the health of this neighborhood and the planet."
Today's announcement is another step in Los Angeles' efforts to become an environmentally-friendly, green city. In January, Mayor Villaraigosa announced that the Los Angeles Department of Water and Power had quadrupled its use of energy from renewable sources. This increase to 20% renewable power in six years is the most dramatic improvement among major utilities in the State of California. Los Angeles also recycles more than any other big city in the country, and has the largest LED Street Light Retrofit Program in the world that will replace 140,000 streets lights to LED in 5 years. The City also has a first-in-the nation, ARRA-funded workforce development retrofit program that targets workers from low-income communities and trains them with the skills they need to obtain good-paying, green jobs.
About LA Building Management
LA Building Management is a full-service management company for commercial property owners. They specialize in office and retail space and have served their clients for more than 20 years. www.LABuildingManagement.com
About ReGreen Corporation
ReGreen Corporation is an innovative energy services company that provides its more than 5,000 customers with cost-effective energy and water conservation solutions. The Los Angeles based firm has helped its customers achieve significant energy cost savings and optimal facility performance in more than 200 million square feet of building space throughout the western United States. www.ReGreenCorp.com
About Walter J Towers
Walter J Towers is comprised of two adjacent classic, high-rise office buildings at 1930 Wilshire and 2010 Wilshire, in the MacArthur Park community. They are home to a variety of medical practices, as well as small and medium-sized businesses. The Towers are owned by Dr. Walter Jayasinghe. The native Sri Lankan first admired the buildings in 1972, while working nearby as a lab technician and completing medical school and purchased them years later. His allegiance to the MacArthur Park neighborhood runs deep: for two decades, he opened one of the city's first 24-hour, walk-in clinics there.