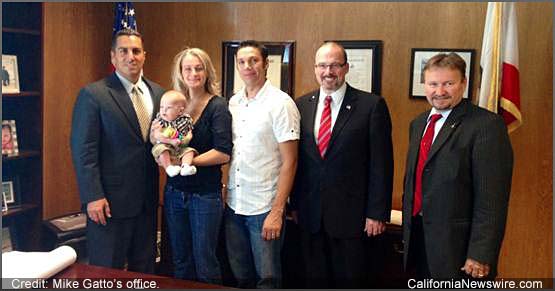 SACRAMENTO, Calif. /California Newswire/ — Calif. Assemblymembers Mike Gatto (D-Los Angeles) and Tim Donnelly (R-Twin Peaks) are calling for an investigation of County Child Protective Services (CPS) agencies in California following recent failures that, in one case, led to the death of a child in Los Angeles County and, in another, caused an infant to be taken from the arms of his mother in Sacramento County. In a letter to the Joint Legislative Audit Committee (JLAC), Assemblyman Gatto requested an audit of CPS programs in three California counties. Gatto will present the request at the JLAC hearing tomorrow, June 5, 2013.
Gatto's request comes in the wake of numerous disturbing incidents involving the actions of CPS agencies across the state. Most recently, Los Angeles officials failed to remove an 8-year-old boy from his home, resulting in his horrific murder. According to media accounts, eight-year-old Gabriel Fernandez was an abused child. He had shown up to school with injuries consistent with severe beatings, had told authorities that his parents beat him regularly, and that he contemplated suicide. Nevertheless, the "investigation" by County officials lingered two months past a legally mandated completion deadline. When authorities finally acted, it was too late. Little Gabriel had BB pellets embedded in his lungs and groin, a cracked skull, broken ribs, burned and bruised skin, and two teeth missing, from the latest round of abuse. He died at the hospital.
"Children like Gabriel rely on adults to keep them safe and advocate for their needs," said Gatto. "The death of an 8-year-old boy, whose abuse and neglect was known by officials, is not just unacceptable- it is horrifying."
The death of Gabriel Fernandez comes in the midst of another high-profile misstep by CPS officials in Sacramento. Imagine the police raiding your house because you sought a second medical opinion for your child. That's what happened to the parents of five-month-old Sammy Nikolayev in Sacramento. He was ripped from his mother's arms, in her house, because she asked to see a second doctor before authorizing risky heart surgery for her newborn. She had lost faith in her original healthcare facility after witnessing staff put Sammy's life at risk by administering potentially deadly antibiotics without a doctor's consent.
"While the facts of this case are not all public, what we do know is alarming enough to warrant further investigation," said Gatto. "It is inconceivable to most parents that a government agency could enter your home without a warrant and haul away your baby, just because you sought a second opinion before a significant medical procedure."
Assemblyman Gatto met with the Nikolayev family last week in Sacramento and expressed his concern and apologies to the family.
By contrast, the Gabriel Fernandez case in Los Angeles County is even more disturbing because of the shocking inaction by officials in spite of the clear indications of serious child abuse. Past audits of Los Angeles DCFS have revealed a pattern of failure to properly supervise and monitor their case load. In fact, a recent investigation by the Los Angeles Times found that 3,450 children have overdue investigations in Los Angeles County.
"Those who are empowered with protecting the defenseless should be accountable to families and the public. It is our responsibility, and certainly mine as a legislator and a member of the Assembly leadership team, to be the voice of children, who are almost always voiceless," said Gatto. "This is why I've called upon the State Legislature's Joint Legislative Audit Committee to perform a comprehensive audit of these agencies around the state. Children who are not abused should not be snatched from loving households. Children who are abused should be removed promptly. It would seem that the counties that strike the proper balance could help teach other counties their best practices."
Mike Gatto is the Chairman of the Appropriations Committee of the California State Assembly. He represents the cities of Burbank, Glendale, La Cañada Flintridge, the Los Angeles neighborhoods of Los Feliz, Silver Lake, Atwater Village, and portions of the Hollywood Hills and East Hollywood. http://www.asm.ca.gov/gatto
PHOTO CAPTION: (From left) Assemblyman Mike Gatto (D-Los Angeles) met with baby Sammy and his parents, Alex and Anna Nikolayev, Assemblyman Tim Donnelly (R-Twin Peaks), and Slavic Community Leader Florin Ciuriuc last week at the California State Capitol. CREDIT: Mike Gatto's office.
---
Copyright © 2013 California Newswire. This content is copyrighted under U.S. and international law and may only be used for non-commercial purposes by news aggregators or under license of the Neotrope® News Network (www.neotrope.net). .