SACRAMENTO, Calif. /California Newswire/ — Assembly Bill 1639, a key piece of foreclosure prevention legislation authored by Assemblymember Pedro Nava (D-Santa Barbra), cleared a hurdle last week when it was passed by the Assembly Appropriations Committee on Friday.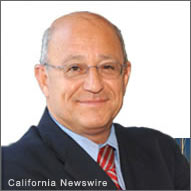 "This legislation sends a strong message to the banking and mortgage industry­that business as usual is not working. We will force the industry to do more to help struggling California families facing foreclosure," said Nava. "This legislation will require face to face meetings between homeowners and their lenders­so that a mutually acceptable plan can be implemented that keeps families in their home."
Assembly Bill 1639, sponsored by Los Angeles Mayor Antonio Villaraigosa, was introduced by Assemblymember Nava and Speaker Emeritus Assembly Karen Bass. The measure will establish a monitored mediation program to help homeowners and lenders reach sustainable loan modifications. Under AB 1639, if attempts at loan modification fail, a reasonable transition plan would be established by the borrower and lender. This type of mediation program has proven successful in numerous other states and cities, including Nevada, Connecticut, and the cities of Philadelphia and Cleveland.
Nava the former Chair of the Assembly Banking & Finance Committee, led a series of informational hearings around California to examine the state's foreclosure crisis, current loan modification programs, and methods by which the state could improve procedures to help struggling California homeowners. Nava was joined at these hearings by housing experts, representatives from the banking and mortgage industry, and state and local non-profit housing and consumer organizations.
"This crisis has devastated thousands of California families and communities. We have to take a new approach to help families remain in their homes," said Assemblymember Nava.
California continues to have the third highest foreclosure rate in the nation, with one in every 144 homes in some stage of the foreclosure process. While these numbers have decreased from last year, 400,000 were nonetheless foreclosed on in California in 2009. Thus far, federal and state efforts to encourage banks and servicers to modify borrowers' loans have largely been on a voluntary basis, and those who need help are subsequently falling through the cracks. California needs a new direction and the implementation of a loan mediation program may be one of the solutions.
AB 1639 will next be heard on the Assembly Floor later this week.