Alliances and Partnerships News
SEATTLE, Wash. -- Seattle-based Trans Marine Propulsion Systems, Inc. (TMPS), known worldwide for their diesel service and engineering department, has secured the distribution, sales and service agreement with Lehmann & Michels, GmbH. (Lemag) of Hamburg, Germany for the west coast of the United States, which includes Alaska and Hawaii. This agreement also extends to British Columbia, Canada.
MOUNT VERNON, Wash. -- PreViser Corporation, a Washington State-based provider of patented oral disease and risk assessment software technology to the dental industry, announced today the finalization of a licensing agreement with White Cross GmbH of Lindau, Germany, to market PreViser technology to dentists within Germany, Austria and portions of Switzerland.
SANTA CLARA, Calif. -- SecuGen is pleased to announce that Club Sentry, Inc. has chosen SecuGen's Hamster fingerprint readers for integration with Club Sentry's club management software. The Hamster readers will be used to scan fingerprints of members when they check-in and check-out through Club Sentry's Biometric ID software module.
COSTA MESA, Calif. -- BandCon today announced that it has been selected by Alpha Red, Inc., a dedicated server hosting provider and Internet service provider headquartered in Houston, Texas, to facilitate the company's peering initiative. Under the terms of the multiple-year agreement, BandCon has installed and will maintain the connectivity of Alpha Red's private national backbone that connects all the major metropolitan areas of the United States.
DALLAS, Texas -- Biometric Signature ID ("BSI") CEO Jeff Maynard announces it has signed a teaming agreement to become a member of a team led by Zolon Tech, Inc. of Sterling, Virginia that was recently awarded a prime contract for the U.S. Department of State's Hybrid Information Technology Support Services (HITSS) program. Through the HITSS contract, this team will support the State Department's mission at headquarters and field offices throughout the United States and internationally.
LANDOVER, Md. -- SecurWireless, Inc., provider of wireless video surveillance solutions for government, state and local, and commercial applications, has named NWStealth, a division of Full Blast Technologies Inc, to its newly launched SecurVAR program. As the program's first Value Added Reseller, NWStealth is the first to receive marketing and sales advantages that enable them to offer best of breed wireless surveillance products for force protection, physical security, and other surveillance solutions to their premier clients.
AUSTIN, Texas -- deverus, Inc., the leader in background screening technology, recently announced a partnership with eScreen Inc., a company known for its innovative drug screening technology. After comparing different providers, deverus found that no one could match the selection and quality of products that eScreen had to offer. Through eScreen, deverus will now provide clients with technology that creates a web-based system that delivers faster drug test results and paperless transactions.
SAN JOSE, Calif. -- Engate Technology Corporation, a leading anti-spam supplier and pioneer of next generation network profiling and connection management security solutions, today announced the signing of an Original Equipment Manufacturer (OEM) Agreement with Net Integration Technologies Inc., a provider of all-in-one small business servers.
NORTHBOROUGH, Mass. -- Protium Technologies, Inc. and Vanu, Inc. have signed a teaming agreement formalizing their business relationship. Under terms of the agreement, Protium will continue to design, develop and manufacture a line of RF front-end equipment to meet the requirements of Vanu's leading-edge, software defined radio architecture.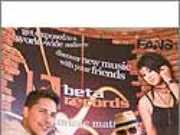 HOLLYWOOD, Calif. -- Georg van Handel (CEO) and Chris Honetschlaeger (President) of BETA Records, LLC, announced today that they will partner with Audiobaba to match mainstream artist searches to unsigned artists. Using their proprietary acoustic fingerprinting technology, users of the upcoming new BETA website will be able to discover new music from unsigned artists around the world.