News of Interest to Members of the U.S. Armed Forces
eNewsChannels NEWS: -- In tandem with 75th Anniversary of the flag-raising on Mt. Suribachi, the Iwo Jima Memorial Midwest Project (IJMM) is launching a nationwide program to build a new Iwo Jima Monument. The new statue will replace the faces of two flag-raisers that were misidentified with the actual Marines who participated.
eNewsChannels NEWS: -- Mag Instrument is introducing the MAGLITE Tactical Group (MTG) at SHOT SHOW 2020. The introduction of MTG coincides with the release of several new and enhanced products for tactical use for law enforcement and military including, the ML150LRS Compact Rechargeable System, MAG-TAC II, and Butt Stock Shell Holder.
eNewsChannels NEWS: -- Sidney Walton, age 100, one of America's oldest WWII veterans and just back from on-stage in Normandy, met with Gov. Gavin Newsom July 29, 4:30 to 5 p.m. in the Governor's office. The meeting was arranged by state Senator Brian Jones from San Diego County.
eNewsChannels NEWS: -- Sidney Walton, age 100, one of America's oldest WWII veterans and just back from on-stage in Normandy, has announced that he will be driving from San Diego to Sacramento to meet with Gov. Gavin Newsom July 30, 11:30 a.m. to 12 p.m. in the Governor's private conference room.
NEWS (PHOENIX, Ariz.) -- In September, the Department of Veterans Affairs (VA) launched its Be There campaign on its website to educate Veterans, Service members and those who care about them, of the vital role they play in preventing suicide. The campaign aims to raise awareness about behavioral health issues concerning our nation's Veterans, and encourages loved ones to Be There.
NEWS (PHOENIX, Ariz.) -- PsychArmor Institute and TriWest Healthcare Alliance announced today the launch of the TriWest Healthcare Alliance School for Health Care Providers, a suite of free online courses taught by nationally-recognized subject matter experts to prepare community health care providers to effectively deliver care to service members, veterans and their families.
FORT BELVOIR, Va. -- Building on the success of its 2015 partnership, CAMMO, the Center for American Military Music Opportunities, is again joining forces with The Collective Sound (TCS) youth music program to offer an exciting summer experience for two children of active duty military personnel. CAMMO is hoping to send one student to TCS' Costa Mesa, Calif., camp and another to the camp in Barcelona, Spain.
NEWS: According to Gary Donovitz, M.D., a current BioTE Medical Combat Trauma Treatment Study (in conjunction with the Veterans Advocacy Center (VAC)) is showing promising results in helping veterans suffering from Post-Traumatic Stress Disorder (PTSD) and Traumatic Brain Injury (TBI).
NEWS: Helping to weave a critically needed safety net for our nation's soldiers and their loved ones, the non-profit National Foundation for Military Family Support (NFMFS) has joined forces with The Charitable Mint to battle urgent needs military families are facing not met by other sources.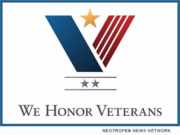 NEWS: Four Seasons Compassion for Life, an award winning hospice and palliative care industry leader, has been recognized as a Level 2 'We Honor Veterans' partner for its organizational capacity to provide quality care for U.S. military veterans.