Home
ARTICLES and Columns
Feature Articles, including Opinion and Commentary Columns by our Editorial Staff
COLUMN: Why write a six-word sentence when it's more fun to use 82 words and a bunch of gobbledygook? Scott G pokes fun at the way some businesses pontificate about themselves online and off.
MUSIC REVIEW: I was pretty excited to hear about the new disc "Fingerprints" from Peter Frampton, a seminal guitar god from the '70s who became enormously famous for his "Frampton Comes Alive" album and for his formant-tube guitar "talk box" sound on that record 30 years ago. I hadn't really thought about him much lately except when my iTunes jukebox cycled around to his tunes. So, getting the new disc was like hearing from an old friend again.
INTERVIEW: Matt Forger speaks out to Scott G about everything from working with Michael Jackson to producing new artists like Mutant Radio. According to Matt, a pop song is a three minute fix of an emotional drug. We are connected through our humanity, and most successful songs speak to this.
COLUMN: Following the announcement of a patent for the video enhanced gravemarker, Scott G ponders the next phase of cemetery chic. Might there be an iTomb in your future? Hats off and a twenty-one gun salute to television commercial producer Robert Barrows, recent recipient of U.S. Patent 7089495 for an invention called the Video Enhanced Gravemarker (VEG).
COLUMN: Companies need to do a better job of policing themselves when signing up new customers on the Internet and through mail campaigns, otherwise...
COLUMN: Three personal managers of independent artists outline pathways for success in an increasingly competitive marketplace. "An artist's music must be something I love," stated Jennifer Yeko of True Talent Management. "It has to be music I want to hear in my personal life as well as when I'm working."
Just when you think it's safe to go shopping on eBay for used gear, like a vintage tube mic, or analog keyboard, the phishing artists have to ruin my day. Phishing, is the practice of trying to fool you into going to a website pretending to be a legitimate site, like a bank or eBay, or to contact somebody about a product or service through "real looking" email communications.
The numbers are supposed to be big in online marketing, but are they significant in the online marketing of music? Clearly, we need someone with 'Net experience to set a few things straight. Scott Meldrum is a businessperson and musician with a dry wit and a background in bulk mail. Oops, excuse me, direct response advertising. He's also the man called on by major labels when they want to brand an artist and reach millions of fans via the Internet.
If you're young enough, all you know is digital music. Forget about records. Or vinyl. Or eight-tracks. Or even cassettes. To these people, the brouhaha over digital rights management and pay-per-download models seems pretty silly. And the changeover from physical products to sound files isn't even an issue for them.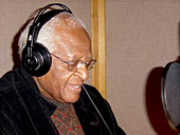 An interview with Nobel Peace Prize winner, human rights activist and world renowned author and lecturer Archbishop Desmond Tutu, who shares a few thoughts on his book "God Has a Dream: A Vision of Hope for Our Time."