China Business, Entertainment and Technology News
EXETER, Calif. -- Guangdong Food Industry Institute (GDFII/L&P Food), a leading manufacturer of sucralose, announces that Administrative Law Judge Charles E. Bullock of the...
NEW YORK, N.Y. -- Broad Press USA announced this week the release in English of "A China More Just" (ISBN: 1-932674-36-5), an autobiographical account by Chinese lawyer and Nobel Peace Prize nominee, Gao Zhisheng. The announcement comes one month after Gao was abducted by the Chinese authorities.
DENVER, Colo. -- Ironman China Ltd. (ICL), announced today that the City of Haikou, Hainan will be the venue for Asia's second Ironman 70.3 series event. Ironman 70.3 China will take place on April 20, 2008 and will be the first time that a full-distance Ironman and Ironman 70.3 race will be staged at the same venue on the same day.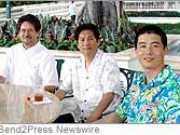 KAILUA-KONA, Hawaii -- Mundus Institute of Honaunau, Hawaii, and China National Tourism Administration have agreed to launch a joint venture to utilize Mundus educational software, textbooks, and curricula in colleges, universities, and training centers throughout China. The cooperation agreement will be formally signed at a public ceremony to be held in Beijing, China on November 7. The announcement was made by Dennis Foster, chairman of Mundus Institute.