Home
Economic Development
Economic Development - includes local Government, Services and Consultants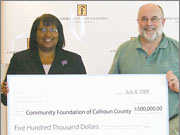 ANNISTON, Ala. -- The Foothills Community Partnership (FCP) officially presented a charitable contribution of $500,000 to the Community Foundation of Calhoun County at a...
PHILADELPHIA, Pa. -- An unprecedented move to gather worldwide commentary on a new "global commons" was announced this week in Berlin by an international coalition including the Philadelphia nonprofit organization, Centre for Global Negotiations. The proposal calls for wide-ranging discussions on a common action plan, authored by the world's people, to address transnational problems and create checks and balances on the world's governmental and corporate sectors.
PITTSBURGH, Pa. -- Executives from Pittsburgh-based GSP Consulting will present to a gathering of economic development leaders from around the country at a national conference this week in Baltimore. Dr. Jerry Paytas, Director of Research in GSP's Economic Architecture practice, will lead a discussion titled "Best TBED (Technology Based Economic Development) Practices...to Avoid," on October 18 at the State Science and Technology Institute's (SSTI) 11th Annual Conference.
ST. PAUL, Minn. -- Leading economic development expert Dr. Jerry Paytas will discuss Regional Competitiveness: Best Practices and Lessons Learned at the 12th Annual Minnesota Development Conference "Harnessing Minnesota's Ingenuity" on September 26, 2007.
MERIDEN, Conn. -- The American Bar Association ("ABA") recently re-appointed Houston Putnam Lowry as one of their representatives to the United Nations Economic and Social Council ("ECOSOC"). Attorney Lowry has represented the ABA (and other organizations, including the Economic Commission of Europe) at the United Nations for years on a variety of topics.
EAU CLAIRE, Wis. -- Economic and development opportunities in West Central Wisconsin will be the focus of a formal study of the region being commissioned by Momentum Chippewa Valley (MCV), says GSP Consulting Corp. The study kicked off August 9 with a visioning session in which local leaders developed a framework for the future economic development of the region.