Home and Garden News
IRVING, Texas -- More than one million consumers in the United States may be impacted when cellular carriers are no longer required to provide Advanced Mobile Phone System service to more than 26 million alarm systems. Because of the potential impact to security systems that rely on AMPS technology, the National Burglar & Fire Alarm Association is urging consumers to contact their alarm company to ensure continued response to intrusion, fire and/or medical alert alarms.
CLEVELAND, Ohio -- Plumbing Enlightenment, Inc., the newest member of the Enlightenment family of businesses, announces a new company that provides a plumbing outsource estimating service to contractors. Plumbing Enlightenment, Inc. understands the challenge and cost involved in finding a skilled individual to fill the position of a full-time estimator.
ENGLEWOOD, Colo. -- Accents In Water, an Englewood based manufacturing company, invested in a study to see if any health benefits would result from having an indoor water feature. The study's conclusion is surprising. It shows water features cleaning air better than most air cleaners. In addition, the study indicates that Accents In Water's features not only remove dust they also neutralize bacteria and potential viruses from the air.
CHICAGO, Ill. -- While mold damage continues to be a growing problem, the Know Mold Corporation, an Illinois-based corporation, is taking a proactive role by offering a new product - KnowMold(TM) - to prevent mold before it becomes a pest. According to a study conducted by the University of Arizona, mold is present in every home; Illinois has the highest count of mold spores in the nation.
HOUSTON, Texas -- Mosaic Tile Supplies, LLC, a Texas-based producer and importer of high-quality mosaic tile, announces the addition of a new design tool - "The Maximizer" - an online, Flash-based application that offers customers the ability to create custom mosaic tile blends for interior design and new building projects.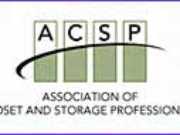 WHEATON, Ill. -- ACSP members Mike Carson (Closet Works, Chicago) and Steven Mann, (Crowne Closets, Las Vegas) have announced the merger of their businesses. The Association of Closet and Storage Professionals (ACSP) bylaws allow for only one member from a company to sit on the board. Since both principals hold offices, Steven Mann has respectfully resigned as President-Elect. The ACSP has announced Diana Augspurger as President-Elect.
CHAPEL HILL, N.C. -- Known for its exquisite French antique reproductions, The Elysee Collection is saying "Buon giorno" with its latest offering, Collezione Contessa, a group of about 20 pieces inspired by traditional Italian living and the rustic beauty of the Tuscan countryside.
JAMAICA, Vt. -- Jamaica Cottage Shop, Inc. announced today that it will be offering its wooden post and beam shed kits to retailers nationwide as part of a new wholesale program. The program is designed to make their New England style buildings more readily available to consumers outside the northeast.
SAN ANTONIO, Tex. -- The HomeSwimmer, a new, portable, stationary-swimming system developed by San Antonio-based HomeSwimmer Ltd., has received yet another recognition - the iParenting Media's 2006 Outstanding Product Award. This award is one in a line of many.
MIAMI, FL -- DNA 11, the creators of nationally-acclaimed DNA artwork, are proud to announce an innovative, second-generation product of fingerprint art. These custom-made, digital works of art capture the essence of the client by creating a personalized image; customers can select one fingerprint or all five.