New York Business News, Entertainment, and Technology News (U.S.)
NEW YORK, N.Y. -- The Capla Kesting Gallery announced today that the Daniel Edwards sculpture of Suri Cruise's first poop in bronze, which has been covered internationally in the press this week and was the most e-mailed photo on Yahoo! on Thursday, is now back on eBay. The auction will benefit the March of Dimes charity.
BROOKLYN, N.Y. -- Bronzed baby shoes are out, and bronzed baby poop is in, for Tom Cruise and Katie Holmes ("TomKat") as they celebrate baby's "first poop." The commemoration of baby Suri Cruise's first poop strives to be the evidence of her existence for a public yet to see photos of the superstar couple's four month old infant. The sculpture "Suri Cruise's commissioned bronzed baby poop" goes on display August 30th at Capla Kesting Fine Art in Brooklyn's Williamsburg gallery district and will be offered on eBay with the proceeds to benefit the March of Dimes.
NEW YORK, NY -- The nude study of Senator Hillary Clinton used in creating her first portrait as U.S. President is featured in a documentary now viewable at YouTube.com, the net's leading video download site. "Hillary's Bust," an eight-minute short produced by Goodnight Film, reveals the sexy origins of a statue of the former First Lady planned for display at New York's Museum of Sex.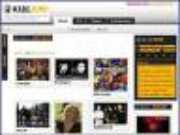 NEW YORK, NY -- M.A.D.E. Planet has launched its Web site (www.madeplanet.com) to provide services to the arts and entertainment industry through social networking, and visual and audio forums.
NEW YORK, N.Y. -- Commencing Monday, May 22nd 2006, online diamond and jewelry retailer James Allen (jamesallen.com) began offering its customers more than 10,000 high quality photographed diamonds available exclusively on the James Allen web site.
NEW YORK, N.Y. -- VIBE Magazine's January 2006 issue features unsigned draft pick Mark McLaughlin. Based on the R&B single "Brooklyn" VIBE states, "McLaughlin pays homage to hip hop heroes and reminisces over summer park jams in his street-hardened baritone."
NEW YORK, N.Y. -- New York based FareBuzz.com, the industry leader in Air Consolidator fares, celebrated another record year as its client roster and revenue base grew significantly in 2005. "Our expansion and growth into the Corporate Travel Agency sector was a primary reason we enjoyed another record year," said FareBuzz.com CEO Arnold Walter. A contributing driver for this tremendous growth was the introduction of an upgraded Online Booking Tool to enhance their current Best Fare/Real Time booking engine for Business & First Class fares.