News: Non-Profit Organization
Home
News: Non-Profit Organization
Non Profit Organizations News and NonProfit Charity Organization News
IRVING, Texas -- Nearly every 15 seconds a burglary is committed in the United States, and the busiest burglar season is summer. So before you pack that suitcase, board the family pet and say goodbye to everyday chores, make sure you've planned ways to keep your home and valuables safe. To help with that planning, the National Burglar & Fire Alarm Association (NBFAA) offers these tips.
MONTCLAIR, N.J. -- Under a band of multi-colored ribbons and accompanied by live yodeling, fifty graduates received certificates and joined the growing ranks of Celebrants during ceremonies Sunday at the Madison Hotel in Morristown, N.J., it was announced by Celebrant USA Foundation & Institute.
IRVING, Texas -- The air was electric as central station operators at HSM Electronic Protection Services worked tirelessly to help police apprehend three would-be thieves that had broken into a customer's store. Their persistence and dedication to their customer was what earned HSM the 2007 First Line of Defense Award.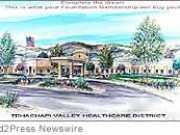 TEHACHAPI, Calif. -- The Tehachapi Hospital Foundation, an IRS 501(c)(3) organization, is actively seeking funds to build a new hospital in a region between Lancaster and Bakersfield, CA - Tehachapi. The present Tehachapi Hospital is unable to meet state-mandated earthquake safety requirements; the existing structure cannot be retrofitted.
WOODBRIDGE, Conn. -- On the fourth anniversary of the war in Iraq, two social entrepreneurs, Jon Gorham and Michael Swartz from Connecticut, have launched a web site to help foster peace in the world: refundsforgood.org. Swartz and Gorham created a company called Refunds for Good, Inc. and have launched an interactive web portal that shows individuals and organizations how to claim telephone tax refunds on their 2006 returns.
WOODBRIDGE, Conn. -- "Global warming, air pollution, over-population - these are daunting challenges that we all face - but there is a solution. Here's your chance to make a difference," says Ed Begley, Jr. on the new Refunds for Good website: www.refundsforgood.org.
SEATTLE, Wash. -- Incredible glamour, amazing intrigue, and a worthy cause are back for another round in one of Seattle's most popular fund-raisers, the Columbia Tower Club's 4th annual Monte Carlo Casino Night on Saturday, March 24th, 2007.
SHERBORN, Mass. -- Elias Fund, Inc. announced today that on May 5, 2007, ten bands from across the Northeast will perform in Acton, Massachusetts, to champion one cause known to thousands by one name: Elias. In honor of this Zimbabwean father of three sons, and on behalf of hundreds of other people and their communities, music fans with change on their minds will come together in Nara Park for EliasFest: The Voice of the Voiceless.
IRVING, Texas -- The National Burglar & Fire Alarm Association (NBFAA) has announced that the association has doubled funding of its national Youth Scholarship Program to $20,000. Winners of the national awards will receive $10,000 for first place, $7,500 for second place and $2,500 for third place.
MINNEAPOLIS, Minn. -- Who says wishes don't come true? Call it a fairytale ending, the ultimate Christmas gift, an answered prayer, or just good karma, but something magical happened at Twin Cities Habitat for Humanity (TCHFH) this past holiday season.