News: Non-Profit Organization
Home
News: Non-Profit Organization
Non Profit Organizations News and NonProfit Charity Organization News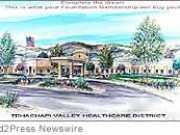 TEHACHAPI, Calif. -- The Tehachapi Hospital Foundation, an IRS 501(c)(3) organization, is actively seeking funds to build a new hospital in a region between Lancaster and Bakersfield, CA - Tehachapi. The present Tehachapi Hospital is unable to meet state-mandated earthquake safety requirements; the existing structure cannot be retrofitted.
WOODBRIDGE, Conn. -- On the fourth anniversary of the war in Iraq, two social entrepreneurs, Jon Gorham and Michael Swartz from Connecticut, have launched a web site to help foster peace in the world: refundsforgood.org. Swartz and Gorham created a company called Refunds for Good, Inc. and have launched an interactive web portal that shows individuals and organizations how to claim telephone tax refunds on their 2006 returns.
WOODBRIDGE, Conn. -- "Global warming, air pollution, over-population - these are daunting challenges that we all face - but there is a solution. Here's your chance to make a difference," says Ed Begley, Jr. on the new Refunds for Good website: www.refundsforgood.org.
SEATTLE, Wash. -- Incredible glamour, amazing intrigue, and a worthy cause are back for another round in one of Seattle's most popular fund-raisers, the Columbia Tower Club's 4th annual Monte Carlo Casino Night on Saturday, March 24th, 2007.
SHERBORN, Mass. -- Elias Fund, Inc. announced today that on May 5, 2007, ten bands from across the Northeast will perform in Acton, Massachusetts, to champion one cause known to thousands by one name: Elias. In honor of this Zimbabwean father of three sons, and on behalf of hundreds of other people and their communities, music fans with change on their minds will come together in Nara Park for EliasFest: The Voice of the Voiceless.
IRVING, Texas -- The National Burglar & Fire Alarm Association (NBFAA) has announced that the association has doubled funding of its national Youth Scholarship Program to $20,000. Winners of the national awards will receive $10,000 for first place, $7,500 for second place and $2,500 for third place.
MINNEAPOLIS, Minn. -- Who says wishes don't come true? Call it a fairytale ending, the ultimate Christmas gift, an answered prayer, or just good karma, but something magical happened at Twin Cities Habitat for Humanity (TCHFH) this past holiday season.
BOULDER, Colo. -- Women can sport strings of pink, red, and purple beads this Valentine's Day to show their caring for industrious African women working their way out of extreme poverty. Nonprofit BeadforLife (www.beadforlife.org) offers Valentines Day-hued bracelets, necklaces, chokers, and other jewelry - also available in many other vibrant colors - handmade by Ugandan women who are HIV-positive or refugees from a brutal civil war in Uganda, all of whom were living on less than $1 a day. Many care for numerous AIDS orphans.
WASHINGTON, D.C. -- The Save Darfur Coalition welcomes the agreement reached today (Jan. 10) by New Mexico Governor Bill Richardson and Sudanese President Omar al-Bashir that his government and rebel groups will cease hostilities for a period of 60 days while they work towards a lasting peace.
SAN RAMON, Calif. -- Streams of Life International (SOLI), founded by Ashley Noah, a 23-year old recent UCLA graduate, led a team of volunteers to Ethiopia to provide medical care, donate $30,000 USD in medical supplies, and refurbish a pediatrics room. Their efforts were concentrated at the Assosa Hospital, located in the Benishangul-Gumuz Region of Ethiopia. This gift generated excitement in the community and received Ethiopian television and newspaper coverage.