Photography Industry News, including Wedding Photographers, Art Photography & Related News
PARK CITY, Utah -- The Images of Nature(R) gallery at 364 Main Street announces the release of Thomas D. Mangelsen's latest book "The Natural World" (ISBN-13: 978-0977467259) with an artist reception and book signing Saturday, March 10th from 5:00 pm to 9:00 pm. Tom Mangelsen will be making a personal appearance at the Park City Images of Nature gallery and will be signing books and sharing stories of his travels.
SOMERVILLE, N.J. -- Having just returned from the Baja Peninsula in Mexico, Photographer Wil Fernandez is excited to share his images. While there, Fernandez's primary subject was canines - wild, stray and working dogs. He also captured thought-provoking images of the colorful landscape and intriguing population.
KIEL, Germany -- LaserSoft Imaging's SilverFast, the world standard in scanning software, has now taken a quantum leap in the evolution of genuine High Dynamic Range Imaging. This new function in SilverFast version 6.5 utilizes varying exposures of each scan. This dramatically increases dynamic range, allowing even the most subtle nuances in both shadow and highlight areas to be recognized and enhanced.
TOMBALL, Tex. -- At the end of a lonely cemetery road in a small Texas town, Norm Lanier toils to bring the dead back to life. He does not use a witch's brew, lightning, or voodoo magic; although it is rather easy to apply these things metaphorically to his work. Take one photograph of a dead ancestor, add some computer wizardry, swirl it around, toss in a pinch of special laminate and viola! The result is a Haunted Portrait.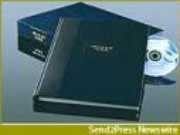 MINNEAPOLIS, Minn. -- PhotoBook Press knows we all have a book in us and announces a great new way to have this dream realized - The Book in Me Contest. PhotoBook Press, custom publisher of fine photographic memoirs, announces the contest for everyone with a great photo book idea, who always wanted a professionally printed book of their favorite, most meaningful photographs. The contest is designed to show how rewarding it is to tell a story using historical photographs or modern digital images AND how easy it is to create a beautiful book to document and share that story.