Pop Culture News, Cool Stuff, Offbeat and Unusual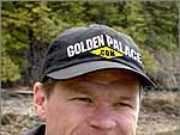 VANCOUVER, B.C., Canada -- GoldenPalace.com is proud to present Raging Boll. Uwe Boll, the German filmmaker best known for several video game based films like 'Alone in the Dark,' 'House of the Dead,' 'BloodRayne,' & 'In The Name of The King: A Dungeon Siege Tale,' is considered by many critics to be one of the world's worst filmmakers. His movies, however, have made him more money than his critics will earn in several lifetimes.
HOLLYWOOD, Calif. -- Is art imitating life or what? Craig X who sells pot on Showtime's hit show "Weeds" is opening a pro-pot Temple on Hollywood Blvd this week. In the first season he plays himself as the owner of the "Bodhi Sativa Care Givers Club." In season two, this week's episode (August 21-25), "Cooking with Jesus" he appears as the owner of cannabis club called the "Mohasky Club."
NEW YORK, NY -- The nude study of Senator Hillary Clinton used in creating her first portrait as U.S. President is featured in a documentary now viewable at YouTube.com, the net's leading video download site. "Hillary's Bust," an eight-minute short produced by Goodnight Film, reveals the sexy origins of a statue of the former First Lady planned for display at New York's Museum of Sex.
STOCKHOLM, Sweden -- Everyone can appreciate a good T-shirt and most people like to stay informed regarding the news and current events. Therefore it's no wonder why a project that combines the two has taken the world by storm. Based out of Stockholm, Sweden uniquely designed T-shirts are being shipped out to all four corners of the Earth.
MIAMI, FL -- DNA 11, the creators of nationally-acclaimed DNA artwork, are proud to announce an innovative, second-generation product of fingerprint art. These custom-made, digital works of art capture the essence of the client by creating a personalized image; customers can select one fingerprint or all five.
LOS ANGELES, Calif. -- Temple420.org opened on April 20th to incredible success. There have been thousands of people flocking to the site and a true community is being created on-line. Two community members of Temple420.org have decided to get married and they have asked Craig X Rubin, the new Pope of Pot, to officiate over their Wedding. The other exciting news is that Rubin, the Temple's Reverend, is going to Washington D.C. to be trained as a preacher by Arch Bishop George Augustus Stallings.