Retail Business and Retail Product News
NEWS: Join us for a fun-filled, family-friendly evening as The Avenue Viera in Florida celebrates National 'Talk Like a Pirate Day' at Family Pirate Night on September 19, 2015! Family Pirate Night will feature live entertainment, giveaways and prizes for the best dressed pirate.
NEWS: Whiteflash Inc., top tier retailer of ideal diamonds and fine bridal jewelry, announced this week that it is adding High Definition 360 degree video to their website for their in-house loose diamonds.
VIERA, Fla. /eNewsChannels/ -- NEWS: The Avenue Viera and The Cocoa Beach Chamber of Commerce will hold the Taste of the Avenue on September 10, 2015. Join us for delectable food samples from a variety of restaurants located at The Avenue Viera.
CHESTER, Conn. /eNewsChannels/ -- NEWS: Greenwald Industries is the designer and developer of FlashCash(R), a laundry payment technology that is currently the leading contactless laundry payment technology in Europe. Installed in thousands of machines, FlashCash use is growing by leaps and bounds.
FARIBAULT, Minn. /eNewsChannels/ -- NEWS: Rejuvatek Medical announces the first tattoo studio in the state of Minnesota to offer the newest, patented, non-laser Tatt2Away technique for removing all colors of a tattoo. The tattoo studio Images Everlasting is currently the only tattoo studio certified to offer this revolutionary technology in the state of Minnesota.
HOUSTON, Texas /eNewsChannels/ -- NEWS: Renowned international jeweler, Brian Gavin Diamonds, introduces its newest luxury collection, Brian Gavin Yellow(TM), a line featuring certified fancy yellow diamonds set in left or right hand ring settings. These beautiful diamonds are set in platinum, 18K white gold or 14K white gold.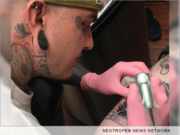 WILKES-BARRE, Pa. /eNewsChannels/ -- NEWS: Rejuvatek Medical, Inc. this week announced the opening of their latest Tatt2Away(R) center in Eastern Pennsylvania at Marc's Tattooing and Body Piercing. Tatt2Away offers a patented, innovative alternative to laser tattoo removal that is less painful, less costly, and more effective at removing all tattoo colors of pigment.
VIERA, Fla. /eNewsChannels/ -- NEWS: Stop by The Avenue Viera to meet Brevard County first responders on Saturday, May 30, 2015 from 1 - 4 p.m. The Brevard County Sheriff's Office and Fire Department will be on hand to answer questions and give live demonstrations.
VIERA, Fla. /eNewsChannels/ -- NEWS: Florida's KISS 95.1 and Lite Rock 99.3 are sponsoring the fifth annual Saved By The Bell Teachers Party on Friday, May 29, 2015 at The Avenue Viera from 5 - 7 p.m. The party is in appreciation of Brevard County teachers and celebrates the end of the school year.
CLARKSVILLE, Tenn. /eNewsChannels/ -- NEWS: Rejuvatek Medical, Inc. today announced the opening of the very first Tatt2Away(R) non-laser tattoo removal system in No Egrets Tattoo Studio. Tatt2Away is a brand new patented process designed for tattoo studio artists to be able not only to remove tattoos but also to selectively remove part of an existing tattoo in order to place a new one over it, called cover up.