Software News and Business Applications News
DALLAS, Texas -- Biometric Signature ID ("BSI") CEO Jeff Maynard announces it has signed a teaming agreement to become a member of a team led by Zolon Tech, Inc. of Sterling, Virginia that was recently awarded a prime contract for the U.S. Department of State's Hybrid Information Technology Support Services (HITSS) program. Through the HITSS contract, this team will support the State Department's mission at headquarters and field offices throughout the United States and internationally.
ATLANTA, Ga. -- M2SYS Technology, an award-winning biometric fingerprint technology firm, announced today that LOGICARE Corporation has enhanced its OnRecord(TM) healthcare solution for emergency departments and patient educators by integrating M2SYS' Bio-Plugin(TM) fingerprint software.
SAN FRANCISCO, Calif. -- LogicEase Solutions Inc., provider of the mortgage industry's leading suite of risk management solutions - ComplianceEase(R), announced today it has received a Notice of Allowance for a patent on its automated compliance system from the United States Patent and Trademark Office. The allowed patent, "System and Method For Automated Compliance With Loan Legislation" primarily encompasses the ComplianceAnalyzer(R) automated compliance system.
ST. LOUIS, Mo. -- Backbone Security, the market leader in advanced digital steganalysis tools, announced the newest version of their industry leading steganography application detection tool, Steganography Analyzer Artifact Scanner (StegAlyzerAS) today at the DoD Cyber Crime Conference 2008.
AUSTIN, Texas -- deverus, the leader in background screening technology, has recently released one of the latest must-haves in the industry, I-9 verification automation. For those companies that want to stay in compliance with ever-changing laws and regulations, I-9 data verification automation is essential.
SAN FRANCISCO, Calif. -- ComplianceEase(R), a leading provider of mortgage industry automated compliance and risk management solutions, announced today that its automated compliance system, ComplianceAnalyzer(R), will be available on Calyx Point's WebConnect(TM) platform on January 10th, 2008.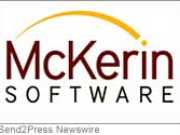 SIOUX FALLS, S.D. -- McKerin Software today announced that Luverne Alumni News, a publication providing Luverne Minnesota High School graduates with hometown news and stories, has licensed McKerin Software Outreach to improve member address maintenance and mailing operations.
FREMONT, Calif. -- TeamF1, Inc., the leader in embedded networking and security software, today announced immediate availability of AuthAgent TACACS+, its newest product - an implementation of the Cisco TACACS+ (Terminal Access Controller Access-Control System Plus) Protocol, that provides separate authentication and authorization features for networked devices.
MOUNTAIN VIEW, Calif. -- Purplenova has announced the release of FunCaster - A widget that allows users to make selective PC content directly accessible from popular social networking sites, forums and portals. The FunCaster, says the company, was developed in response to concern among Internet users about having to upload photos, videos and other personal content on to third-party servers to be able to share them with friends.
SANTA CLARA, Calif. -- SecuGen is pleased to announce that realtime has integrated SecuGen(R) fingerprint readers with realtime's bioLock Software to provide biometric authentication and fraud mitigation for SAP applications. To date, bioLock is the only certified technology available for ERP market leader, SAP, that offers biometric access and function control.