Sports News, Sports Marketing News, and General Sporting News Stories
CHARLESTON, S.C. -- The nation's leading receiver, Maurice Price, announced Monday that he has decided to forgo his senior season and enter the NFL Draft. Price led all of Division I football in receiving last year with 103 receptions, becoming just the seventh player in Division I-AA history to record more than 100 receptions in a single season.
WASHINGTON, D.C. -- Fed up with the current state of the NHL? You're not alone. Thousands of traditional hockey fans are stock piling their picket signs and they have set a date to be heard. On January 20th, fans across North America are being called on to bring personalized signs, to each of the 13 NHL home games, that display their displeasure with "the new NHL." A website, Hockeyfansunite.com, has been established to promote what is being called the "Save the NHL Night Out."
KOH KTEAH, Cambodia -- GoldenPalace.com, the Internet casino famous for their unusual and often outrageous advertising campaigns, has done it again by sponsoring Canadian director Matt Frame's record-breaking feat for the world's longest handcuffed swim. Matt made the brutal 5.8 kilometer (3.1 nautical miles) swim from Koh Kteah to Serendipity beach without the benefit of a wetsuit or any help. The Guinness people have officially confirmed this to be a record-breaking swim.
STOWE, Vt. -- A blanket of snow turned Vermont's Green Mountains white as Billy Kidd, the first American male to win an Olympic (silver) Medal in Alpine Ski Racing, was inducted into the Vermont Ski Hall of Fame at the Snowflake Lodge in his hometown of Stowe on Sunday. "Though not fully proven, it took the fearlessness of his Abenaki Indian and Pirate (Captain William Kidd) blood to break the glass ceiling," said fellow Olympian Suzy Chaffee, co-chair of Native Voices Foundation (NVF).
WASHINGTON, D.C. -- ES Interactive announced today that it has teamed up with WiggleWireless to offer fans the Kona Buzz, a "fly on the wall" view of what really happens before, during and after the biggest race on the planet - the Ford Ironman World Championship in Kona, Hawaii. Triathlon insiders, Paul Huddle and Wendy Ingraham, will be joined by Michael Lovato, Desiree Ficker and a host of others to give fans the inside skinny on the place, the players and the unique character of the granddaddy of all races.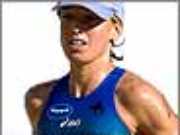 WASHINGTON, D.C. -- ES Interactive announces that it has teamed up with Wiggle Wireless to offer fans personal access to their favorite pros with the Kona Secret Cell Phone Diaries. The athletes' diaries include training tips, insider secrets, personal stories and some spicy gossip. The concept of the Kona Secret Cell Phone Diaries came from ES Interactive's CEO, Carri Bennet's desire to make professional athletes more accessible to their fans and to increase the spectator-friendliness of endurance sports like triathlon.
DENVER, CO -- Colorado's North American Indigenous Games (NAIG) ended with a strong magical feeling of being 'a feeder to the 2008 China Olympics. That was the hope of Joe Garcia, President of the National Congress of American Indians (NCAI and San Juan Pueblo Governor/runner), whose Team New Mexico brought home the (ultimate) John Fletcher Spirit Award, said Olympic Skier Suzy Chaffee, co-chair of Native Voices Foundation (NVF).
PRAIRIE VILLAGE, Kans. -- As America's top college football teams battled in the four BCS games, Tostitos, Federal Express, Nokia and Citi, scored more than $106 million of in-game signage and enhancements from ABC Sports during the four telecasts. The values, determined by Image Impact, Inc. (www.ImageImpact.tv), the premier provider of sponsorship impact/product placement evaluation, are based upon the published 30-second commercial rates.