SAN FRANCISCO, Calif. /California Newswire/ — This week Mayor Edwin M. Lee and Police Chief Greg Suhr released the year end crime statistics showing continued historic low crime trends for the City of San Francisco. Mayor Lee and Chief Suhr announced that 2011 violent crime rates in San Francisco are down 6 percent from last year.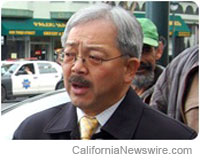 "Violent crime in San Francisco remains at historic lows because of stronger community partnerships, targeted approaches to violent crime and aggressive crime prevention strategies," said Mayor Lee. "Despite some tough economic times, Chief Suhr and the San Francisco Police Department are working to make our City the safest big city in the United States through the best use of 21st century technology, strategic deployment of police resources, the use of innovative crime fighting strategies and successful partnerships with our diverse communities and neighborhoods."
Homicides were at their second lowest annual rate of any year in San Francisco since the 1960s again in 2011.
In 2011, total violent crime in San Francisco was down six percent from 2010 and shows a reduction of 18 percent compared to 2008:
· Homicide showed no statistical change; there were 50 homicides in both 2011 and 2010;
· Aggravated Assault is down nine percent in 2011 from 2010;
· Robbery is down two percent in 2011 from 2010;
· Rape is down 12 percent in 2011 from 2010; and
· Burglary is down five percent in 2011 from 2010.
In 2011, total property crime in San Francisco was up three percent from 2010.
The SFPD continues to pursue innovative crime reduction strategies including a "task force style" response to all crimes of violence. Increased community policing efforts, improved approach in assisting those suffering from mental illness and those with limited English proficiency, town hall community meetings and the decentralization of traffic officers and Beach/Park Patrols for safer streets and neighborhoods are also critical to the reduction of crime in San Francisco. In addition, the formation of the new Special Victims Unit allows our City's most vulnerable populations the compassion and consideration they deserve.
"The year end crime statistics are an indication to the people of San Francisco of how well the men and women of the San Francisco Police Department are serving this City," said Chief Suhr. "Our goal is for San Francisco to be the safest big city in America, and the men and women of the SFPD in partnership with our communities are committed to this end. We will achieve this goal by reducing crime and the perception of crime through the use of innovative crime fighting strategies, accessing the best technology available, predictive policing, strategic planning, and working collaboratively with all those concerned. There is nothing we cannot achieve when we all work together for the common good."