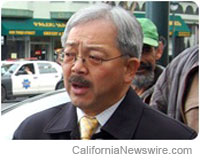 SAN FRANCISCO, Calif. /California Newswire/ — This past week, Mayor Edwin M. Lee and the California Institute for Quantitative Biosciences (QB3) announced that QB3 will develop a new biotech incubator at 953 Indiana Street in San Francisco's Central Waterfront area. The incubator will be called "QB3@953"and will advance QB3's work to support life science companies and create jobs in California by providing two key elements of success for startups: efficiency and networking.
"QB3@953 marks the sixth life sciences incubator in San Francisco and secures the City's place as a premier hub for entrepreneurs and innovation," said Mayor Lee. "QB3@953 will keep small biotech companies here in the Innovation Capital of the World by providing critically needed space to start, stay and grow–creating jobs while driving innovative science and health discoveries."
QB3@953 will provide laboratory and office space for 20 to 30 startup companies focused on the life sciences. Space at the new incubator will be leased similarly to the other QB3 incubators, in amounts as small as a single research bench, making state-of-the-art laboratory space affordable to fledgling operations.
"The two things bioscience entrepreneurs seem to value most are proximity to other scientists and the ability to start up on a credit card," said Douglas Crawford, PhD Associate Director of QB3, which is headquartered at UCSF Mission Bay. "We're enabling small life sciences companies to start very efficiently, near other entrepreneurs and UCSF."
All incubator companies will have access to QB3's business resources which include legal and business advisors, assistance in grant writing for federal Small Business Innovation Research funds, and paid access to high-end equipment and technology in facilities at the UCSF Mission Bay campus.
"In addition to tremendous lab resources, one of the great things about working in the QB3 incubator is that it is an open lab environment – it is really a nexus of innovation," says Robert Blazej, CEO, Allopartis which started in the QB3 Garage in Mission Bay. "We collaborate with the other companies, we talk constantly, and it's really helpful to have that collaborative research environment – especially when you are trying to pull off the impossible."
"I am excited to have a new life-science incubator in District 10," said Supervisor Malia Cohen. "I can't wait to see these young entrepreneurs discussing their startups in coffee shops on 22nd Street. Incubators are one of the best ways to bring good jobs to San Francisco."
The San Francisco Office of Economic & Workforce Development (OEWD) has assisted QB3 through their expansion efforts. QB3@953 is scheduled to open its doors by September 1st and will bring the City's life science incubators to six.San Francisco is already home to:
• FibroGen's Mission Bay Innovation Center: 30,000 square feet
• Bayer CoLaborator: 5,000 square feet
• QB3 at UCSF: 4,500 square feet
• Bioscience Laboratories: 7,000 square feet
• Celgene Incubator: 15,553 square feet
"This is another great move forward in building San Francisco and the Bay Area into the most dynamic life science discovery center in the world," said Bayer HealthCare US Innovation Center Site HeadTerry Hermiston. "Mission Bay is home to leading academic institutions and companies, from large companies to those in their earliest start-up phases, all working to transform human health. Sometimes people don't understand the powerful synergies that can come when a diverse group of innovative, passionate scientists come together in one place. We are very excited to add QB3@953 to our already thriving community of discovery!"
The 23,720 square ft. building housing QB3@953 is owned by the Dewey Land Company Inc.
About QB3:
QB3 is a cooperative effort among private industry and more than 220 scientists at UCSF, UC Berkeley and UC Santa Cruz. One of four technology institutes created in 2000 by former California Governor Gray Davis, QB3 has a joint mission of supporting science, driving the California economy and transforming scientific research into public good.
Fundamental to the latter two missions are QB3's efforts to commercialize University of California science by creating mutually beneficial partnerships with industry and supporting innovative entrepreneurs. The effort has led to 54 bioscience startup companies currently in QB3's incubator network. QB3 also operates Mission Bay Capital, an $11.3 million seed-stage venture capital fund designed to support UC startups. For more information on QB3, go to: www.qb3.org.
---
Copyright © 2013 California Newswire. This content is copyrighted under U.S. and international law and may only be used for non-commercial purposes by news aggregators or under license of the Neotrope® News Network (www.neotrope.net). .