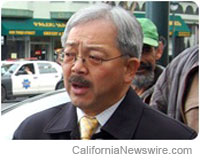 SAN FRANCISCO, Calif. /California Newswire/ — On Tuesday, S.F. Mayor Edwin M. Lee, Board President David Chiu and Supervisor Scott Wiener introduced legislation mandating the seismic retrofit of the City's large wood-frame soft-story residential buildings, a historic step forward to ensure San Francisco's resilience and safety. The legislation is also co-sponsored by Supervisors Norman Yee, Mark Farrell, London Breed and Eric Mar.
"We are taking the necessary steps to protect our residents and make sure that San Francisco is America's most resilient City," said Mayor Lee. "This legislation is the result of more than a decade of work and collaboration with tenants, property owners and seismic experts, and we have all come together to make sure we strengthen our most vulnerable residential buildings. Before the first retrofit is required, we will develop financial incentives and assistance programs to help defray costs for property owners."
The ordinance will mandate the retrofit of all soft story buildings of wood frame construction built before 1978 that contain five or more residential units and have three more stories. Initially all owners of this class of buildings, soft story or not, will be required to complete an evaluation form to determine if their building is seismically vulnerable. Once determined, those buildings containing a soft story condition will be required to retrofit within seven or fewer years.
"By seismically retrofitting the most vulnerable buildings in our City, this legislation will go a long way to ensure the safety and well-being of our residents in the event of another major earthquake," said President Chiu.
"In a major earthquake, an enormous amount of our housing stock, including many rent-controlled buildings, will be at severe risk," said Supervisor Wiener. "We've been talking for a long time about taking meaningful steps to fix these buildings. Now is the time to move from talk to action."
Seismologists predict that a significant Bay Area earthquake – two to three times as strong as the 1989 Loma Prieta quake – is likely to occur within the next thirty years. During Loma Prieta these buildings performed especially poorly, leading to collapse, fire, and the loss of life.
The ordinance is part of the Earthquake Safety Implementation Program (ESIP), the City's greater effort to reduce many of the City's most dangerous risks in a future earthquake. The ESIP effort is the next step in the Community Action Plan for Seismic Safety (CAPSS) program that culminated earlier this year after a decade of work by the nation's leading earthquake experts, local housing advocates and property owners, and building experts. The CAPSS program made a series of recommendations for policy changes and retrofit programs.
The goal of ESIP is to assure that after the expected earthquake, residents will be able to stay in their homes and quickly access important community services. ESIP's recommended policies aim towards a target of no catastrophic building collapses, meaning our economy can return to functionality as quickly as possible, restoring resident's confidence in our City's ability to recover and rebuild immediately.
Since the 1989 Loma Prieta earthquake, voters have approved several General Obligation Bonds to retrofit City facilities and today nearly 200 buildings and facilities are seismically retrofit. Through the most recent Earthquake Safety and Emergency Response Bond, the City's emergency water system that helps fight fires is now being repaired and retrofit, neighborhood fire stations are being improved and a new Public Safety Building is being built so that public safety agencies can provide uninterrupted emergency services during and after a disaster.
San Francisco has come a long way since 1989, in large part due to investment in critical infrastructure including projects like rebuilding San Francisco General Hospital and the seismic upgrade work for the Hetch Hetchy Water and Power system – a $4.6 billion program to ensure regional water delivery quickly resumes after a disaster through upgrades to pipelines, pump stations, treatment plants, tunnels and dams along the system's 167-mile long system that brings water to the San Francisco Bay Area from the Hetch Hetchy Reservoir.
For more information about CAPSS and ESIP, go to: www.sfcapss.org.
---
Copyright © 2013 California Newswire. This content is copyrighted under U.S. and international law and may only be used for non-commercial purposes or under license of the Neotrope® News Network – www.neotrope.net. Republication of this data stream as full-text content is authorized only for legitimate news portals and aggregators (may not be used for marketing purposes or to make it appear the content originated elsewhere). Copr. © Neotrope and the "news source" – all rights reserved. .
This site is part of the Neotrope® News Network USA