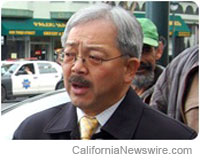 SAN FRANCISCO, Calif. /California Newswire/ — SF Mayor Edwin M. Lee on Monday announced the second ImproveSF challenge centered on food justice in Central Market, challenging the innovation community to find social justice solutions to improve access to healthy foods for residents in the Central Market/Tenderloin neighborhood.
"Access to fresh, healthy food is a tremendous challenge in some of our neighborhoods, particularly for those most vulnerable in areas like Central Market and the Tenderloin," said Mayor Lee. "This ImproveSF challenge allows us to use innovation to focus resources and develop real solutions that we can use throughout the City."
The Central Market food justice challenge was designed in partnership with Supervisor Jane Kim, the Office of Economic & Workforce Development, Episcopal Community Services, the North of Market Community Benefits District, the Department of Public Health and Hub Mission. The challenge is sponsored by Zendesk, the cloud-based help desk software provider that recently relocated to Central Market.
"Providing access to nutritious food and fostering healthy eating habits within our community is a key component of the social justice work that we have undertaken with our Tenderloin and South of Market community leaders," said District 6 Supervisor Jane Kim. "Whether it's addressing a lack of access to a kitchen facility or to affordable fresh produce, our residents are actively engaged in piloting new ways to achieve food justice. ImproveSF is an exciting opportunity to fuse their experiences and ideas with on-going tech innovations. I'm looking forward to joining our residents in picking the next ImproveSF challenge winner."
"The ImproveSF challenge further cements our long-term commitment to help revitalize the Central Market neighborhood," said Zendesk CEO Mikkel Svane. "We are fans of the ImproveSF platform and love that technology can play such an innovative role in how civic leaders and residents can solve city issues together."
Solutions to the challenge are due July 20, 2012 and participants will compete for two prizes: a "Dream Day in SF," provided by Zendesk and a Hub Mission membership and mentorship opportunity from Hub Mission.
Zendesk has also added rewards to the ImproveSF Civic Store, where participants redeem points for voting and commenting on submissions.
"The Hub Bay Area is excited to be a part of an ongoing collaboration with the Innovation Department of the City of SF," said Hub Bay Area CEO Cory Smith. "We're entering a new era of bottom-up, community-driven solutions in San Francisco."
Mayor Lee launched the first ImproveSF challenge with the San Francisco Municipal Transportation Agency in April.
About ImproveSF
ImproveSF is an online platform that empowers citizens to apply their expertise to civic challenges. Each challenge is launched through a partnership with a City agency, a corporate sponsor and community partners. Citizens respond to the challenge by submitting ideas, voting, sharing and commenting. Each challenge awards prizes for winning submissions, and as additional incentive for participation.