SAN FRANCISCO, Calif. — Professionals Guild is hosting a Singles Dance Party and Mixer in San Francisco at the exclusive Golden Gate Yacht Club (GGYC) in San Francisco, 1 Yacht Rd., Friday, May 16th, 2008, from 8 p.m. to midnight. GGYC is normally for members only, but by special arrangements, membership is not required for this event.
This San Francisco singles party features: 1) Panoramic views of the Bay, 2) an optional mixer game with prizes to make it easy to meet new people, 3) great dance music from the 70's, 80's, and 90's to current hits, 4) free parking, 5) free hors d'oeuvres, 5) an optional salsa dance lesson, 6) a no host bar.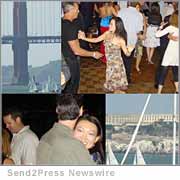 People of all ages are welcome. The typical crowd is single professionals, age 25 and up with many in their 30's, 40's, and 50's.
"The optional salsa dance lesson gets the party going," said Phil Seyer, director of Professionals Guild, "and because we change partners, singles can connect and make new friends easily."
Besides salsa lessons at parties, Professionals Guild promotes the Web's only Latin Dance School: http://www.LoveMusicLoveDance.com/latin .
About 250 to 300 singles are expected to attend the GGYC singles party. The cover at the door is $25. Professionals Guild hosts huge monthly parties as well as smaller gatherings.
[youtube:http://www.youtube.com/watch?v=pYKN39AWUpo&hl&autoplay=1 300 200]
Other upcoming Bay Area singles parties include:
Friday June 6th: East Bay Singles Party/Mixer, San Ramon Marriott Hotel, 2600 Bishop Drive, San Ramon, Calif.
Friday, June 20th: East Bay Singles Party/Mixer Hilton Concord Hotel, 1970 Diamond Blvd., Concord, Calif.
Friday, the 4th of July: Fancy, elegant Wine Dinner with breathtaking views of the Bay Area, Free parking. Reservations required. Golden Gate Fields Turf Club, Berkeley. Cost to public, $75, but just $30 for Professionals Guild subscribers.
Saturday, July 19th: Singles party at Golden Gate Fields Turf Club, 1100 Eastshore Hwy Berkeley, Calif. 200 to 300 singles expected to attend. Free parking.
About Professionals Guild
Professionals Guild offers huge monthly singles parties and mixers in the Bay Area and Sacramento, as well as New Years Eve extravaganzas for couples and singles.
More information: http://www.pguild.com or call 1-925-888-4392.
[tags]Professionals Guild, San Francisco dating[/tags]