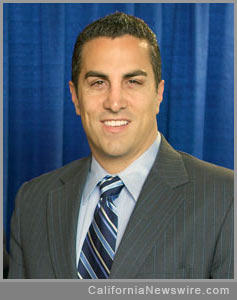 SACRAMENTO, Calif. /California Newswire/ –A tiny bug that causes huge problems is one step closer to being eradicated, says Calif. Assemblyman Mike Gatto. Huanglongbing (HLB), a disease spread by the Asian Citrus Psyllid, infects citrus trees and destroys them. There is no known cure. The disease has almost destroyed China's citrus industry, and Florida has lost over 200,000 acres, 6600 jobs, and billions in revenue. In recent years, HLB has been found in Southern California but has not yet crossed into the Central Valley. If it does, growers are worried that California's citrus industry, which employs over 14,000 people and grows 82 percent of the nation's fresh fruit, will be destroyed.
AB 571, by Assemblyman Mike Gatto (D-Los Angeles), which would appropriate $5 million dollars for research and prevention of HLB, passed the Assembly Tuesday by a unanimous, bipartisan vote of 77-0. There have recently been some promising advances in preventing the spread of HLB, including the discovery that certain almost-microscopic wasps, which kill the Psyllid, can dramatically slow the spread of the disease.
"Losing yet another of California's 'signature' industries would be terrible for the state," said Gatto. "It is appropriate, perhaps even a duty, for the Legislature to take steps to prevent this from happening."
The citrus industry generates in excess of $500 million dollars of tax revenue for California.
"We are just ecstatic that someone in Sacramento cared enough about jobs to make sure that we don't lose everything because of this exotic pest," said Joel Nelson, President of California Citrus Mutual. "We thank Assemblyman Gatto for convincing his colleagues, particularly his urban colleagues, of the big picture on this issue."
California's other major employers have faced similar threats before, and policymakers often lament that no one had the foresight to stave off the losses before they became too large to recover from. A similar pest, phylloxera, almost destroyed California's wine industry. Aggressive tactics in other jurisdictions caused many movie productions to flee the state. And changing federal dynamics caused aerospace jobs to become a rarity in California.
AB 571 now moves to the Senate for consideration.
Mike Gatto is the Chairman of the Appropriations Committee of the California State Assembly. He represents the cities of Burbank, Glendale, La Cañada Flintridge, the Los Angeles neighborhoods of Los Feliz, Silver Lake, Atwater Village, and portions of the Hollywood Hills and East Hollywood. www.asm.ca.gov/gatto
---
Copyright © 2013 California Newswire. This content is copyrighted under U.S. and international law and may only be used for non-commercial purposes by news aggregators or under license of the Neotrope® News Network (www.neotrope.net). .