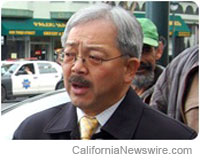 SAN FRANCISCO, Calif. /California Newswire/ — Mayor Edwin M. Lee today launched an online tool to help new businesses navigate the City's permitting and licensing requirements. License 123 is an easy-to-use tool that allows entrepreneurs and small business owners to access permits and licenses at one convenient site, instead of contacting several City agencies, as they open a new business in San Francisco.
"Small businesses are the heart and soul of our economy and a significant job creator," said Mayor Lee. "This new tool is a great example of how we are using technology and innovation to make government more responsive and efficient to help our businesses grow and succeed in our City."
Created in partnership with the Office of Small Business, Office of Economic and Workforce Development and the Department of Technology, License 123 allows users to apply the City's permits and licenses online easily. Users begin by selecting the industry and specific type of business they would like to operate. Based on their selections, they are able to see all permits, licenses and estimated costs associated with their business type. Users are then able to download the forms and are referred to the Department responsible for accepting their applications.
"Traditionally, new business owners who did not visit the Office of Small Business would have to approach many departments to pick up or download the forms they need to start their business," said Office of Small Business Director Regina Dick-Endrizzi. "License 123 provides a single place where forms are easily accessible and downloadable at any time of the day with only a few clicks."
In addition to City and County of San Francisco forms, there are 204 State of California forms and 100 Federal forms related to various business types. License 123 currently offers information on 258 unique types of businesses across 19 industries.
"Knowing that the permitting process was not an easy one, I greatly appreciated that License 123 was able to gather all the information I needed in one place," said License 123 beta user Steve Fox, a small business owner targeting the opening of Urban Putt, a restaurant and bar with an 18-hole indoor miniature golf course in San Francisco's Mission District in Fall 2013. "Navigation was simple and I was able to get to every form I needed with no more than two clicks."
Through License 123, users are also referred to the Office of Small Business for additional guidance. The Office of Small Business provides one-on-one customized business assistance in English, Spanish, Mandarin, and Cantonese and all forms are offered in Spanish and Chinese.
The launch of License 123 is a continuation of Mayor Lee's concentrated effort to make it easier for small businesses to start, stay, and grow in San Francisco while using technology to improve access to information and government services. In November, the Mayor also announced the Enterprise Zone Web App, a tool to help businesses access Hiring Tax Credits online.
License 123 is a product of DocStoc, a company that hosts a selection of professional documents and resources for small businesses.
To access the new License 123 online tool, go to:
---
Copyright © 2013 California Newswire. This content is copyrighted under U.S. and international law and may only be used for non-commercial purposes by news aggregators or under license of the Neotrope® News Network (www.neotrope.net). .