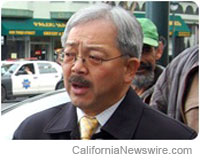 SAN FRANCISCO, Calif. /California Newswire/ — On Friday, S.F. Mayor Edwin M. Lee celebrated the opening of the San Francisco Police Department Central Market Safety Hub on Sixth Street. Increased beat officers and service providers will increase community outreach, stabilization and crime prevention to improve neighborhood safety and cleanliness. The Central Market Safety Hub is a key component of the Central Market Economic Strategy, a roadmap to guide the City's efforts to create jobs, stabilize the community and transform the quality of life for the neighborhood's residents, visitors, merchants, and nearby businesses.
"The opening of the SFPD Central Market Safety Hub marks another milestone in our continuing effort to revitalize and transform the Central Market neighborhood," said Mayor Lee. "This new Safety Hub will improve the health and vibrancy of Sixth Street and the entire Central Market corridor – a corridor that has seen new companies, new small businesses, new cultural and arts institutions, new jobs and thousands of new housing units under construction. As we continue to make major strides in creating an eclectic cultural arts, small business, entertainment and innovation economy hub in Central Market, we are making good on our commitment to increase public safety, cleanliness and vibrancy in the neighborhood."
"The activation of the Central Market Safety Hub on Sixth Street will allow police officers assigned to this area to remain in the Central Market area," said SFPD Chief Gregory Suhr. "This Hub is in direct response to the public's requests for more police presence along this corridor and will help in the City's efforts to transform this neighborhood."
"Since my first day in office, the Sixth Street substation has been one of my top priorities, from identifying funding for its completion after the dissolution of Redevelopment to working with SFPD leadership to ensure the original vision for the safety hub is implemented," said Supervisor Jane Kim. "Captain Redmond is doing a tremendous job outreaching to the South of Market and Sixth Street community, and this energetic dedication positively reinforces the promise the City has made for years to the Sixth Street and Central Market community."
The SFPD Central Market Safety Hub solidifies the City's coordinated efforts to increase public safety and create a safe, clean, and vibrant neighborhood. An initial San Francisco Redevelopment Agency project, the Department of Public Works led the completion of construction of the SFPD Central Market Safety Hub.
SFPD will manage access to the building and will be available seven days a week, 6:30 a.m. to 10:30 p.m., and in addition will increase the Central Market foot beat from 16 to 24 officers.
In addition, the Office of Civic Engagement and Immigrant Affairs' Community Ambassador Program, which has been a key to the revitalizing and stabilizing Central Market, has extended the hours of service for their 11 Community Ambassadors deployed between Fifth and 12th Streets along Market Street and Sixth Street between Market and Mission Streets. Community Ambassadors provide safe passage to employees, patrons and transit riders along the Central Market corridor between 11:00 a.m. to 10:00 p.m.
As a part of the SFPD Central Market Safety Hub, the Department of Public Health through Project Homeless Connect's Everyday Homeless Connect program will work directly with those seeking services, as well as with case managers and staff from partner agencies, to make connections to those often hard-to-access resources, services and goods that can provide additional or necessary ingredients for a successful move out of homelessness, transition into housing, or avoidance of housing loss.
Through the District Attorney's Office, the Neighborhood Prosecutor assigned to the Southern Police Station will hold office hours once a week at the SFPD Central Market Safety Hub. The Neighborhood Prosecutor will focus on potential Neighborhood Court participants who are homeless and/or Sixth Street corridor residents.
The Adult Probation Department will link clients to on- and off-site services and resources, regularly visiting clients who are temporarily housed at the Baldwin House, located next to the Safety Hub. Department staff will be stationed once a week at the SFPD Central Market Safety Hub.
San Francisco residents, merchants and businesses were encouraged to stay engaged in the non-emergency service needs of the Central Market area by calling 311 to direct site specific services to the areas or individuals in need of service.
Central Market tech company Yammer donated six computers to the SFPD Central Market Safety Hub to support their efforts.
The SFPD Central Market Safety Hub and the programs and services offered through its site seek to fulfill the public safety objectives and goals outlined in the Central Market Economic Strategy developed to stabilize and revitalize Central Market and the adjacent neighborhoods, while supporting the neighborhood's current residents and communities. The strategy will help to guide economic development investments and efforts by the City as well as its nonprofit and private-sector partners.
For more information, please visit http://www.oewd.org/Central_Market.aspx.
---
Copyright © 2013 California Newswire. This content is copyrighted under U.S. and international law and may only be used for non-commercial purposes by news aggregators or under license of the Neotrope® News Network (www.neotrope.net). .