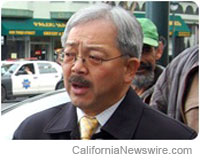 SAN FRANCISCO, Calif. /California Newswire/ — S.F. Mayor Edwin M. Lee announced the launch of San Francisco's Season of Giving campaign to support organizations that help San Franciscans and organizations helping victims of Hurricane Sandy. The Season of Giving will last through Martin Luther King, Jr. Holiday weekend on January 15, 2013 and residents and businesses are encouraged to give back to their own communities or to the American Red Cross for hurricane victims to provide warm meals, a place to stay and other essential services.
At today's launch, Mayor Lee was joined by many of San Francisco's nonprofit and community-based service providers including representatives of the American Red Cross, Glide Memorial Church, United Way of the Bay Area, Self Help for the Elderly and the San Francisco Food Bank.
"As the Innovation Capital of the World, our approach to solving problems has always been to capitalize on our greatest asset– our residents," said Mayor Lee. "Whether you can donate dollars, food, or your time, the organizations that serve vulnerable populations here or on the East Coast need our help now. We want to show the country that San Francisco is a City with a world class heart."
As a City that cares deeply about its residents, neighborhoods and communities, the Season of Giving Campaign is the best way for residents, businesses and visitors to give to those nonprofit agencies that do the hard work every day to ensure those greatest in need are cared for this holiday season. Mayor Lee highlighted several organizations to give back to during the holidays, and he will be visiting several of these during the Season of Giving Campaign.
For residents that cannot give back financially, San Franciscans are also urged to consider giving their time to volunteer in service to their community, or donating canned goods and nonperishable food items to the San Francisco Food Bank. The public should contact 311 for additional information on gift giving programs and services that provide the comfort of food and shelter during the holidays.
Mayor Lee also announced, as part of the San Francisco Season of Giving, that Civic Center Plaza will host family activities, including a free children's snow park, open to the public on December 15th and 16th. Guests will have an opportunity to support the San Francisco Food Bank's Holiday Food Drive by bringing nonperishable food items to the events for collection by the San Francisco Food Bank. The snow park will be open from 10:00 a.m. – 6:00 p.m. in Civic Center's Joseph L. Alioto Performing Arts Piazza.
For more information about the San Francisco Season of Giving Campaign, go to: sfgov.org/seasonofgiving