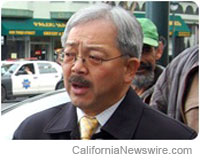 SAN FRANCISCO, Calif. /California Newswire/ — S.F. Mayor Edwin M. Lee on Thursday opened the new Visitacion Valley Family Resource Center annex at the Sunnydale HOPE SF public housing site as part of the Mayor's IPO (Interrupt, Predict and Organize for a Safer San Francisco) violence prevention strategy.
"Services provide a long-term prevention solution to violence," said Mayor Lee. "The IPO strategy that we launched with City departments, law enforcement, community-based organizations and faith-based leaders has worked to organize and prioritize services in the areas most impacted by violence including Sunnydale. The families of the Sunnydale community need hope and will be able to access quality resources locally in this new Visitacion Valley Family Resource Center."
"I am pleased to welcome the Family Resource Center to Sunnydale," said Supervisor Malia Cohen. "Locating this center in Sunnydale is another step forward in prioritizing the needs of our families and children who live in public housing and is an encouraging step forward in our efforts to increase public safety and secure peaceful neighborhoods in Visitacion Valley."
Mayor Lee and Supervisor Malia Cohen launched the IPO violence prevention strategy in August 2012 as a public safety initiative to address an increase in homicides in the City's Southeast neighborhoods. IPO outlines multiple goals and objectives to ensure public safety. One of the major objectives is to implement a coordinated service strategy that is inclusive of City departments and community-based service providers, targeting high crime neighborhoods.
The new Visitacion Valley Family Resource Center annex site is an extension of the IPO violence prevention strategy as a tangible service delivery approach accessible to everyone impacted by street violence. It is an evidence based model, one-stop-shop service center catered to provide quality services including school readiness, early learning, parent education and support, behavioral health, case management and social services.
The Visitation Valley Family Resource Center main site is located at 50 Raymond Avenue and the Sunnydale annex is at 1704 Sunnydale Avenue. Experience has shown that people are more likely to access the services they need if they do not have to travel to multiple locations, and the new Sunnydale annex will make it easier for participants to receive services.
The Visitacion Valley Family Resource Center is funded by the First Five San Francisco, Department of Children, Youth and Their Families (DCYF), and the Human Services Agency (HSA) collaboratively and implement together. This Family Resource Center will be operated by the Visitacion Valley Family Services Collaborative's (VVFSC), which APA Family Support Services (APA) is the lead agency. The VVFSC will have multiple annexes and will target neighborhoods, such as the Sunnydale HOPE SF public housing site.
"Violence prevention strategies should begin early and support families that have young children," said First Five San Francisco Director Laurel Kloomok. "By providing residents a lot of family support and helping them understand child development, parent education and increasing their knowledge on conflict resolution we build stronger families and achieve long term results."
The Visitacion Valley Family Resource Center strives to achieve and engage families who are at risk of child abuse, truancy, neglect, mental health problems and domestic violence. Intensive clinical and case management service will reach out to the community to help struggling families achieve stability to become physically, mentally, and emotionally healthy and be competent parents. Parent educators and developmental specialists take their programs on the road where parents and children can participate in activities in local parks, libraries, schools, community centers and childcare centers. For more information, go to: vvstrongfamilies.org.