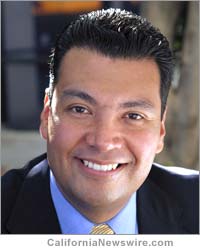 SACRAMENTO, Calif. /California Newswire/ — Calif. Senator Alex Padilla (D-Pacoima) today announced his candidacy for the office of California Secretary of State with a formal statement (text follows).
"Today I am officially announcing my candidacy for Secretary of State.
The strength of our democracy depends on the active involvement of all of our citizens. Last November, more than 10 MILLION Californians did not vote. I'm running for Secretary of State to change that.
The Secretary of State is California's chief elections officer; and for me, that means increasing voter participation — making sure voters know when, where and how to vote — and ensuring that every vote is counted and accounted for.
We should modernize our voting systems and use technology, where appropriate, to make information about our elections more accessible to voters. We must increase the transparency of campaign finance so that voters can easily determine who is funding campaigns and initiatives. I will also work to make voting more accessible and convenient. We must reverse the current trend of declining participation. I believe we can.
That's why I intend to visit every one of California's 58 counties during this campaign, to hear first-hand from county registrars, clerks and others working to register voters and conduct elections. Ours is a large and diverse state, local election officials know what is working and what is not, and how the Secretary of State can help.
The Secretary of State is also responsible for registering new businesses. This important function includes processing, filing and maintaining accurate records of corporations, limited liability companies, and partnerships that seek to do business in California. I will work to eliminate the backlog in that process, so that new businesses feel welcome, can open sooner, and create jobs without delay.
Together we can make voting more accessible and convenient, we can increase voter participation and strengthen both our economy and democracy."
To learn more about Senator Padilla's campaign, visit his website at: www.Padilla4SofS.com – The campaign's official hashtag is #padilla4ca.
Senator Alex Padilla, 40, graduated from MIT with a degree in Mechanical Engineering. He currently serves on the Board of MIT and is President of the National Association of Latino Elected and Appointed Officials. He is Chair of the Senate Energy, Utilities and Communications Committee and represents the more than 1,100,000 residents of the 20th State Senate District in Los Angeles. Senator Padilla resides in the San Fernando Valley with his wife and two sons.

Editorial note: Publication of this news announcement does not imply an endorsement of any political candidate by CaliforniaNewswire®.
---
Copyright © 2013 California Newswire. This content is copyrighted under U.S. and international law and may only be used for non-commercial purposes by news aggregators or under license of the Neotrope® News Network (www.neotrope.net). .