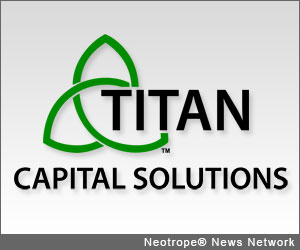 DENVER, Colo. /eNewsChannels/ — Mortgage fulfillment outsource services expert Titan Lenders Corp. (Titan) announced its entry into the correspondent channel with the creation of Titan Capital Solutions (TCS), a wholly-owned correspondent lending subsidiary. The announcement was made during the Mortgage Bankers Association's 99th Annual Convention and Expo in Chicago.
"Although many large players have retreated, the industry's demand for correspondent lending has not been diminished," said Titan president Mary Kladde. "We are confident that the rise of small to mid-sized players in the correspondent channel will serve only to further stimulate the mortgage industry, setting the stage for a private secondary market revival."
"In addition to her risk management and operations expertise, we sought out Debora Aydelotte specifically for her wealth of experience in launching best practice correspondent platforms," Kladde added.
Having installed seasoned correspondent and mortgage executive Aydelotte at the helm as its president, TCS has built out a staff of tenured correspondent veterans based at Titan's Denver headquarters. TCS has also signed a selective number of banks and non-banks for initial participation and will focus primarily on jumbo products.
"Success in the correspondent channel hinges on minimizing turn times without compromising quality," Aydelotte said. "Titan's proprietary Cerberyx platform was built to manage correspondent-level volume quickly and efficiently, enabling faster speed-to-funding. I look forward to our role in leading Titan to its next threshold of strategic growth."
For more information on Titan Capital Solutions, visit .
About Titan Capital Solutions:
Titan Capital Solutions (www.titancapitalsolutions.com), a wholly-owned subsidiary of Denver-based Titan Lenders Corp., was created to support a secondary/capital market strategy for the correspondent lending channel. TCS has been launched under the leadership of correspondent platform veteran Debora Aydelotte, who joined the firm from Aurora Bank, where she lead national fulfillment efforts for direct to consumer, retail, and correspondent lending channels. TCS is committed to correspondent mortgage lending best practices and has been staffed with deeply experienced correspondent specialists. Titan Capital Solutions embraces a leadership role in the restoration of a private investment marketplace for the mortgage industry.
About Titan Lenders Corp.:
Titan Lenders Corp. (www.titanlenderscorp.com) provides domestic business process outsourcing, risk management services and mortgage industry back-office expertise to correspondent, wholesale, and retail residential mortgage lenders. We are also a strong and viable alternative for credit unions and community banks that want to offer mortgages without shouldering the back office details. More importantly, Titan meets mortgage lenders' and community financial institutions' need for industry expertise, elasticity, and scalability.
Industry veterans Mary Kladde and Ruth Lee founded Titan in 2007 in the midst of the mortgage meltdown. Undeterred by the challenges surrounding the mortgage industry, Kladde and Lee forged ahead with a vision of emphasizing quality in loan production through process management, standardization and transparency. The underpinning of this vision lay in the development of Titan Lenders Corp.'s patented, proprietary web-based software Cerberyx, which supports a full suite of fulfillment services, including: funding, compliance, closing, post-closing, purchase review for correspondents and warehouse lenders, trailing documents, MERS management, FHA insuring, and document management (imaging).
Copyright © 2012 Neotrope® News Network – all rights reserved.