Home
Tags
American Fidelity Assurance Company
Tag: American Fidelity Assurance Company
eNewsChannels NEWS: -- The average American Fidelity Assurance Company long-term disability is nearly three years. Even though one in five adults experiences a long-term disability, most Americans are ill-prepared to cover expenses if they are unable to work (note 1). The average American could not cover a $400 emergency without selling some of their possessions and 69 percent have less than $1,000 in savings (notes 2, 3).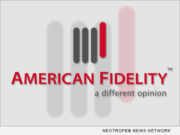 NEWS: (OKLAHOMA CITY, Okla.) American Fidelity Assurance Company recently learned of an incident that involves personal information of some of our Customers. The information did not include Social Security numbers.
KANSAS CITY, Mo. /eNewsChannels/ -- NEWS: Forrest T. Jones and Company has recently partnered with American Fidelity Assurance Company to expand and enhance Missouri public school districts' benefit programs and services. Combined, FTJ and American Fidelity currently serve over 275 Missouri Public school districts, providing a clear, complete and compliant employee benefit package with local personalized service.
OKLAHOMA CITY, Okla. /eNewsChannels/ -- NEWS: American Fidelity Administrative Services, LLC, the recent addition to the American Fidelity family of companies and established in response to great demand from American Fidelity Assurance Company's customers, now offers a tool to assist employers with the complicated Health Care Reform law that requires employers to track employee hours constantly to determine their eligibility for health care coverage.