Home
Tags
Athens Business
Tag: Athens Business
eNewsChannels NEWS: -- FormFree today announced the election of serial entrepreneur, mortgage banking executive and author James Deitch, CPA, CMB, to its board of directors. Deitch, a mortgage industry veteran of three decades, has counseled over 200 financial services businesses, served as president and CEO of five federally chartered banks and served on advisory panels for Fannie Mae (OTCMKTS: FNMA), Freddie Mac (OTCMKTS: FMCC), Truist (NYSE: TFC) and Wells Fargo (NYSE: WFC).
eNewsChannels NEWS: -- FormFree today announced its inclusion in HousingWire's annual Tech100 list for the seventh time. The award recognizes companies and solutions that are revolutionizing the mortgage process.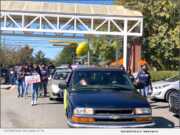 eNewsChannels NEWS: -- Just a day before they must fight in court against the purging of Georgia voters, the Transformative Justice Coalition and Rainbow PUSH Coalition will join the Georgia Coalition for the Peoples' Agenda, community leaders and organizers from across the state for a press conference to kick-off the John Lewis "Good Trouble" March and Votercades to mobilize voters for the U.S. Senate runoff races and Public Service Commission race on Jan 5, 2021.
eNewsChannels NEWS: -- FormFree today announced that Founder and CEO Brent Chandler has been named a HousingWire Tech Trendsetter for a second consecutive year. The list honors executives, product leaders and technology professionals bringing the latest digital lending technology to market for their mortgage and real estate clients.
eNewsChannels NEWS: -- FormFree® has been granted Patent Number 10,769,723 for its proprietary 'Systems and Methods for Electronic Account Certification and Enhanced Credit Reporting' by the United States Patent and Trademark Office.
eNewsChannels NEWS: -- FormFree today announced enhancements to the integration between its AccountChek verification service and Encompass Consumer Connect. Now, borrower data collected by AccountChek in Consumer Connect will automatically map to the Form 1003 (the Universal Residential Loan Application) in the Ellie Mae Digital Lending Platform, saving lenders time and relieving them of the frustration and risk associated with manual data entry.