eNewsChannels NEWS: -- Mi Dentista Dental Clinic in collaboration with a mechanical engineering firm, HVAC Engineering, has set up the first known dental clinic in Los Angeles that uses Negative Pressure Environments to mitigate diseases like COVID-19, namely the disease associated with the SARS-Cov-2 virus.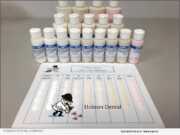 eNewsChannels NEWS: -- Holmes Dental, a family-owned and operated business, is serving Dentists since 1975 with an innovative line of dental solutions including QYK-SET line of Acrylics, deMark dental tools, Sore Spotters for dentures, and Temp and Perm Grippers to handle crowns.
eNewsChannels NEWS: -- The Santa Fe Group (SFG), a not-for-profit, action-oriented think tank with a passion for improving lives through oral health, announced today the new emeritus status of one of its founding members, the election of three new board members, and the appointment of a new Senior Scholar, all esteemed healthcare leaders in their fields.
eNewsChannels NEWS: -- It's been a trying time for everyone during the Coronavirus pandemic, but the Spodak Dental Group (SDG) team is reopening their doors to provide needed dental care to their community members. The SDG team will begin seeing all current and future patients for emergency and routine dental procedures starting Monday, May 11.
eNewsChannels NEWS: -- Spodak Dental Group is offering free dental care for first responders in an effort to say Thank You for the work they're doing to treat local community members during the coronavirus pandemic. Any first responder (police, fire, EMS, hospital worker, medical doctor, nurse or support staff) who is experiencing dental pain is invited to make an appointment for a free dental exam, X-rays and diagnosis.
eNewsChannels NEWS: -- Just in time for Mother's Day, Charleston Oral and Facial Surgery has helped one Charleston-area woman smile again. Due to years of decay, 31-year old Chelsea Carter was referred to the practice by her dentist, Dr. Kent Griffin, as a prime candidate for guided full-arch dental implants.
eNewsChannels NEWS: -- Costa Dentistry is re-opening our doors on Tuesday, May 5, 2020 after implementing strict new safety protocols and state of the art technology.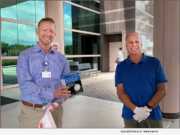 eNewsChannels NEWS: -- In the midst of the Coronavirus pandemic, a local dentist has donated one hundred N95 masks to healthcare workers at the Cleveland Clinic. Dr. Richard Leiderman, a dental specialist in Plantation, donated the masks from his own supply because he is grateful to the healthcare workers.
eNewsChannels NEWS: -- Throughout his 30-year career, Dr. Mario Paz is used to hearing reasons why patients grind their teeth at night, but now it's about COVID-19. "Fears of the virus are creating new anxieties causing patients to clench their jaws for sustained period. This alters their bite causing pain," he says.
eNewsChannels NEWS: -- While many dental practices are choosing to close due to the coronavirus (COVID-19), Charleston Oral and Facial Surgery will remain open to treat patient dental emergencies. There is no need for healthy patients to visit a hospital for emergent dental issues; rather, COAFS will treat healthy patients in the comfort of its six Lowcountry-area offices: Charleston, N. Charleston, Summerville, Mt. Pleasant, Bluffton and Knightsville.