Home
Tags
Economic Development
Tag: Economic Development
SACRAMENTO, Calif. /California Newswire/ -- Moving to increase direct investment in California and give the state's businesses a distinct advantage in China, Governor Edmund G. Brown Jr. today announced plans to open a new trade and investment office in China.
SAN FRANCISCO, Calif. /California Newswire/ -- Mayor Edwin M. Lee on Tuesday broke ground on the long-awaited Port of San Francisco's James R. Herman Cruise Terminal at Pier 27. Last week, the Board of Supervisors upheld the Environmental Impact Report (EIR) on the new Cruise Terminal and 34th America's Cup events in San Francisco, allowing for construction to begin immediately.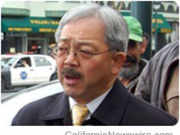 SAN FRANCISCO, Calif. /California Newswire/ -- On Tuesday, San Francisco Mayor Edwin M. Lee and Supervisor Malia Cohen today introduced a resolution at the Board of Supervisors to ensure that major redevelopment projects, such as Mission Bay, the Hunters Point Shipyard, and Transbay as well as affordable housing projects under the San Francisco Redevelopment Agency can continue after the State required their elimination.
OKLAHOMA CITY, Okla. -- The Economic Development Generating Excellence Policy Board announced that 12 pre-proposal applications from an initial field of 62 have been approved to advance to the next step in the 2010 funding evaluation process. This year represents the third round of funding disbursement from the EDGE fund; in 2009, five awards were granted totaling $7.5 million.