LOS ANGELES, Calif. -- Tabloid artist Xvala will introduce his latest art piece, the 'Tiger Woods Rambovian Rosewood Glory Hole And Golf Furniture' in a soon to be revealed location on April 21st in Los Angeles, California. Today Tiger Woods returns to the PGA to contend at the 2010 Masters after a five month hiatus and media frenzied exploitation of his private affairs. In his return, Woods will have the support from some, including the notable sponsor Nike.
KALAMAZOO, Mich. -- Griffin Pest Solutions announces the 'Saw a Bug' video scream contest, in conjunction with the Grand Rapids Public Museum Big BIG Bug exhibit. Museum visitors of all ages are encouraged to take a video of them screaming, while standing in front of the giant grasshopper at the exhibit. Videos may be filmed at the Museum's Big BIG Bug exhibit on April 5 through April 10, 2010 and during the hours of 2:30 p.m. to 4:30 p.m.
BEVERLY HILLS, Calif. -- The catastrophic earthquakes that hit Haiti on January 12 and Chile on February 27 left both countries struggling and in need of resources and economic relief. Local teen performers and young Hollywood celebrities are unifying their talents in an effort to make a difference. Through music, dance and laughter, Teen Artist Benefit (TAB), produced by Joe M. Loera, will become part of the worldwide movement to bring aid to the Haitian and Chilean people by raising money for the American Red Cross.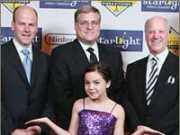 LOS ANGELES, Calif. -- At Starlight Children's Foundation's annual 'A Stellar Night' gala, presented by California Pizza Kitchen, on Friday, March 19, 2010 at The Century Plaza Hyatt Regency Hotel, Starlight presented Larry Flax and Rick Rosenfield, Co-Founders and Co-CEOs of California Pizza Kitchen, with its 2010 'Heart of Gold Award' and Noel R. Wallace, President, North America and Global Sustainability, Colgate-Palmolive Company, with its 'Jacki Carlish Humanitarian of the Year Award.'
LOS ANGELES, Calif. -- One year after unveiling its new dax|D3 digital production workflow system, Sample Digital announces full adoption by its production clients, including the industry's major film studios, broadcast networks and production companies. The platform now supports a community of more than 7,500 individual users, and more than 50 companies, making Sample Digital the leader in its field and dax|D3 the most widely used digital production workflow system.
NASHVILLE, Tenn. -- K. Gabriel Heiser, attorney and author of the best-selling book 'How to Protect Your Family's Assets from Devastating Nursing Home Costs: Medicaid Secrets' (Phylius Press 2010; ISBN: 978-0979080159), will be interviewed on the John Stossel Fox TV show Stossel, on Thursday, March 25.
NEW YORK, N.Y. -- Suspended Cirque is New York City's first Aerial Circus Theater troupe. Aerial Circus Theater, sometimes called 'Nouveau Cirque,' has already become an established performance genre outside of the U.S. thanks to performance companies like Cirkus Cirkor of Sweden, Seven Fingers and Cirque Eloize of Canada, and the Thieree family of France. Using narrative, song and choreography along with the circus acts, these troupes create their shows through the individuality and the artistry of the performers.